These Breakfast Berry Parfaits are such beautiful treats with layers of lady fingers, berries and cream.
Sweet and tangy, they are perfect for breakfast, brunch or dessert.
Make a large batch of these Breakfast Berry Parfaits up for a lightly sweet, spring shower or celebration dessert.
For more delicious gluten free recipes, please visit our recipe page.
Need help finding gluten free items in your grocery store? Download our free mobile app with scanner today to ease the stress of shopping for gluten free items.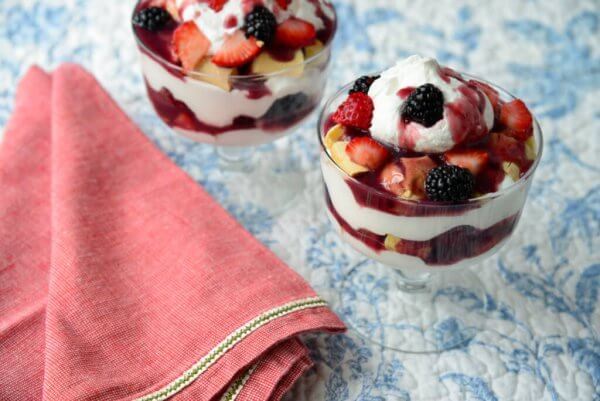 Passive Time

4

hours or overnight
Passive Time

4

hours or overnight
Break lady fingers into small pieces. Set aside.

Mix yogurt and non dairy whipped topping together. Set aside.

Combine berry jam and orange juice, stirring until completely combined. Set aside.

Assemble parfaits: In each serving glass, place several small pieces of the lady fingers. Spoon 1-2 tablespoons of berry jam mixture over the lady fingers. Layer with 1/3 cup of the yogurt mixture and with 1 tablespoon of berries. Repeat layers until serving glass is full.

Cover securely with plastic wrap and refrigerate for 4 hours or overnight.

If desired, when serving, top with additional non dairy whipped topping, berry jam mixture and sliced berries.
This Breakfast Berry Parfait recipe is gluten free and dairy free.