Bruschetta is one of my all time favorite appetizers. I have a small pang of jealous rage every time we go to a restaurant and everyone digs in to a delicious looking platter of something I can not have.  So, not wanting to feel deprived, Renee and I have set to work to bring Bruschetta back to our tables. With an abundance of tomatoes in the garden, we were able to experiment and satiate that deep craving for delectable goodness.
This is a great recipe for times when you have bread that is turning a bit hard, or when you have one too many tomatoes on hand. It is quick and easy to make and you can be creative too, try adding peppers or some red onion to the recipe.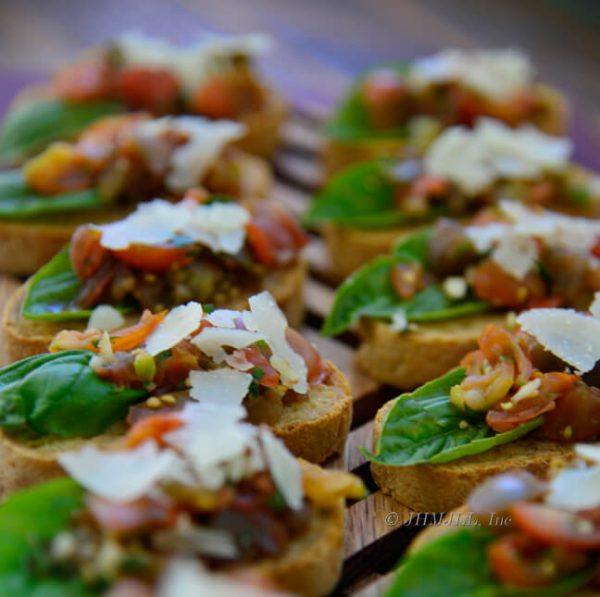 | | |
| --- | --- |
| | |
Add diced tomatoes, olive oil, garlic, balsamic vinegar, salt, and chopped basil together in a small bowl. Mix well

Place butter in a small microwavable dish and cook for 30-45 seconds or until just melted

Slice baguettes into 1/2 inch pieces and brush each piece with melted butter

Arrange bread slices on a cookie sheet and cook for about 5 minutes on each side

Arrange the bread on your serving platter and add basil leaf (optional) to each piece of bread

Scoop a small teaspoon onto each piece of bread covering each piece evenly and top with shaved parmesan cheese
If you do not have baguettes on hand, you can use any bread available. You will need to cut the bread into small circular pieces, just be sure to adjust oven time for the bread you are using. You want the bread to slightly brown on each side.
This Bruschetta recipe is gluten free and vegetarian.