I love ice cream pies. They are no bake, easy to make and delicious, every time. The flavor combinations are endless, but this caramel almond ice cream pie is my personal favorite.
Salty and sweet, crunchy and smooth, this ice cream pie will satisfy every sweet tooth.
This caramel almond ice cream pie is a perfect summertime treat or great in the winter with a steaming cup of hot chocolate. There is never a bad time of year for ice cream pie.
Make this pie ahead of time and keep frozen. On the day you need it, just pop on the toppings and you have dessert all ready to go. If you don't have time to make the brittle, just sprinkle your pie with pieces of toffee or brittle candy.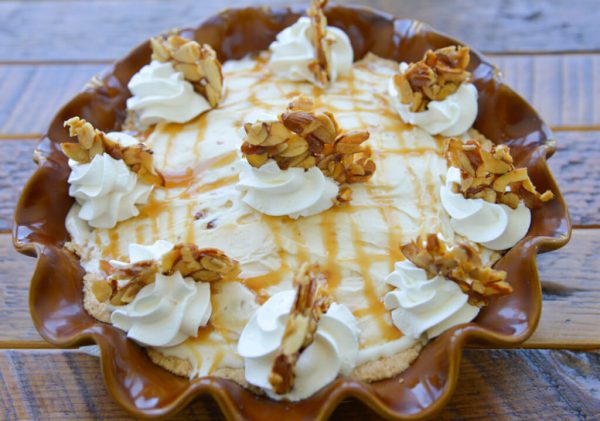 | | |
| --- | --- |
| | |
Break sandwich cookies into food processor. Pulse until crumbs.

Add melted and cooled butter to the cookie crumbs and pulse until butter is incorporated. Press crumb mixture firmly and evenly onto the bottom and sides of a 9" pie pan. Refrigerate until well chilled.

When crust is chilled, fill with softened caramel almond ice cream, pressing gently and mounding the top as needed. Smooth out top. Wrap and freeze until frozen, about 1 hour. If making ahead, keep frozen until needed.

While pie is freezing, prepare the quick almond brittle. Line a baking sheet with parchment paper or a silicone baking mat.

Measure out butter, sugar and salt into a small saucepan. On medium, stir until melted and well incorporated.

Remove from heat, add almonds and stir until the almonds are well coated.

Pour mix immediately onto a silicone baking mat or parchment paper covered baking sheet. Spread out into an even layer.

Place baking sheet in refrigerator and chill until brittle is hard, 15-30 minutes. If making ahead of time, store in an airtight container in refrigerator until serving.

To serve pie, remove your ice cream pie from the freezer and unwrap.

Drizzle caramel sauce across top of pie. If desired, dot top of pie with whip cream and decorate with almond brittle.
This Caramel Almond Ice Cream Pie recipe is gluten free and vegetarian.