My father is a man with definite preferences. There are only two kinds of music – country and western, dessert is a required course every night and all cake is delicious, as long as it is chocolate cake with chocolate frosting. This chocolate layer cake is his definition of a perfect cake.
It never mattered what type of dessert was on the menu for a party at our house, there was always a chocolate frosted, chocolate layer cake hiding somewhere if you looked hard enough and knew which of Mom's hiding spots to check.
My children have inherited my father's love of chocolate cake. This cake is a frequent request in our house. Every time our house is filled with the smell of chocolate cake baking, I think of my Dad. I can't wait for my parents next visit, so I can bake it for him.
This cake is quick enough to put together for a regular day dessert and tasty enough for a celebration.
For a special occasion, finish your cake with our Sugar Plum Fairy Cake frosting and ganache for a beautiful dessert.
For more delicious gluten free recipe ideas for all your holiday needs, please visit our recipe page.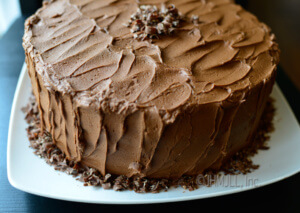 | | |
| --- | --- |
| | |
Preheat oven to 350 degree. Spray pan(s) with cooking spray and line with parchment paper.

Measure out butter and chocolate into a large mixing bowl.

In a small saucepan, measure out water and granulated sugar. Bring to a boil. Pour into the large mixing bowl with butter and chocolate. Let mixture sit until the chocolate and butter melt. Stir and then let cool.

In a separate bowl, measure out and sift flour mix, baking powder, and salt.

Lightly whisk eggs. Before adding to chocolate mix, temper the eggs by adding a tablespoon of the chocolate mix to eggs while whisking. Once tempered, add egg mix to large mixing bowl.

Add vanilla to large mixing bowl.

Slowly whisk dry ingredients into chocolate mixture. Whisk until well combined.

Pour into prepared pans. Bake in a 350 degree oven until a tester inserted into the middle comes out clean.

Place pans on cooling rack to cool for ten minutes. After ten minutes, If desired, remove layers from pans.

Once completely cooled, frost with chocolate frosting.
In a stand mixer, cream butter until light and fluffy.

Slowly, sift cocoa powder into butter, mixing on low until incorporated.

Add vanilla extract to stand mixer, mixing until incorporated.

Slowly add one cup of sifted powdered sugar at a time, mixing on low until incorporated and then on medium-high for one minute.

Continue to add cups of sifted powdered sugar until the frosting is the desired consistency. If the frosting becomes too thick, add hot coffee to thin it out.

When powdered sugar is completely added, whip frosting on high until fluffy.
Adjust your bake time according to the size pan that you choose to use.
This Chocolate Layer Cake recipe is gluten free and vegetarian.