Refrigerator dill pickles are the delicious end result of the huge supply of dill and cucumbers, that I currently have from my garden. Cucumbers are a-plenty in my house right now. We have so many they are spilling off the counters and onto the floor. This spring, just like every spring, I planted four tiny, cute cucumber plants. I forget the enormous plants that they grow to be by harvest time. By this time of year, I am tripping over cucumber vines, trying to avoid our little furry friends that always nest at the base of my plants, while I am endlessly searching for the hidden cucumbers.
'Tis the season for me to be chasing people around trying to pawn off some cucumbers. I take them to the hairdresser, the nail salon, leave them in the mailbox, and am oh so happy to greet the UPS driver with armloads of cucumbers. "Hi, how are you today, here, have some!!"
One of the ways I use cucumbers is to make super quick and easy refrigerator pickles. I am a huge fan of dill pickles and I do not add sugar to my recipe. I know a lot of people do but I try to avoid sugar whenever possible.
Honestly, they are super easy to make and last for about a month in the fridge. If you want longer storage, I recommend preparing them in a water bath and canning them.
To see more fantastic recipes, like these easy refrigerator dill pickles, please visit our recipe page.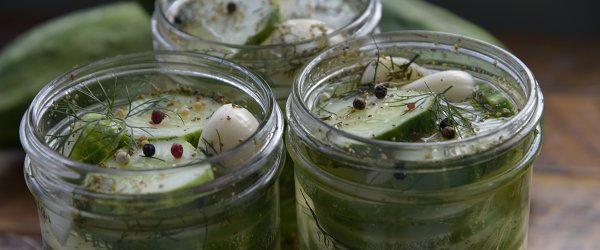 | | |
| --- | --- |
| | |
In a medium saucepan add the vinegar, water, and salt. Bring to a low boil and remove from heat and set aside.

Add to each jar: 1 large clove or 2 small cloves of garlic 1/4 teaspoon celery seed 1/4 teaspoon mustard seed Divide the peppercorns evenly and distribute to each jar

Slice cucumbers into 1/8" thin slices, about the size of a pencil and fill each jar with cucumbers.

Top the jar with sprigs of dill and fill with brine.

Secure the jars with the lids and shake the jars to distribute the spices and brine. Let sit for 24 hours in the fridge before eating.
This Easy Refrigerator Pickle Recipe is gluten free, dairy free, vegetarian and vegan.