I love Icebox Cheesecake. Creamy and delicious, sweet, but not too sweet, it is a perfect dessert.
Cheesecake is also a great vehicle for other flavors. For summer, I like to pair it with fruit flavors. Fresh fruit and lemon add a sweet tartness to the cheesecake that is lovely in the heat of the summer.
With simple ingredients like cream cheese, whipping cream, fruit curd and gluten free graham crackers ingredients, this cheesecake is a breeze to put together and does not require any baking.
It is possible to enjoy sweet dessert without turning the oven on in the summer.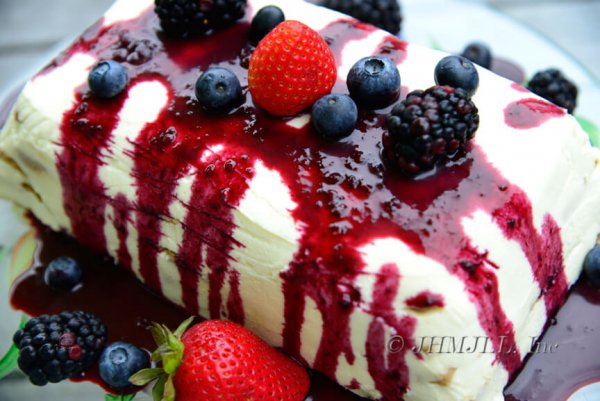 Passive Time

6

hours or overnight
Passive Time

6

hours or overnight
In a stand mixer or with a hand mixer, blend cream cheese until creamy.

Add heavy whipping cream to cream cheese, mixing on low until incorporated.

Blend on medium low just until the mix is firm. Do not whip.

Gently fold the lemon curd, vanilla and salt into the cheese mixture until fully incorporated.

Lightly spray a 9x5 loaf pan with cooking spray and then completely with plastic wrap, leaving the ends long on all sides.

Pour 4 tablespoons into the bottom of the loaf pan into an even layer.

Place 4 graham crackers on top of cheese mix. Do not overlap crackers.

Gently spoon a third of the remaining mixture over the graham crackers.

Layer 4 more graham crackers on top and repeat by spooning another third of the cheese mixture and topping with the last four graham crackers.

Layer remaining third of cheese mixture gently onto the graham crackers and smooth top.

Cover with the ends of the plastic wrap, sealing completely.

Refrigerate for 6 hours or overnight.

To unmold, warm the loaf pan by carefully running warm water on the bottom half.

Peel back top layer of plastic wrap and invert loaf pan onto a serving plate.

After the plastic wrap releases from loaf pan, carefully remove it from the cheesecake. Smooth sides and top if necessary.

Top with our berry glaze and fresh fruit and serve immediately.
This Icebox Cheesecake recipe is gluten free and vegetarian.