I spend most summers up at the lake in Wisconsin. Our house is the go-to house for all the kids and their friends. Dinner can go from the seven of us to twenty in the blink of an eye so having some great recipes for summer salads is essential. Great cold salads like this Italian Pasta Salad, can feed a lot of people without taking a great deal of preparation time.
We host a party every Memorial Day and last year I made this Italian pasta salad for 60 people, not only did they love it, not one person knew it was gluten free. One thing I have learned is just not to tell anyone the food is gluten free. It is a preconceived notion the food will taste bad. It is a dated theory, but a lot of people still think that way. My philosophy is if you just don't say anything, nobody will ever know. You can tell them after they have raved about how wonderful the food is. I love the looks I get when I say it is gluten free!
Brown rice pasta is the pasta I recommend for the salad, it holds together with the ingredients and dressing really well. You can make this salad a day in advance. Store in an airtight container in the refrigerator. After a day, the pasta starts to lose its integrity.
For more delicious gluten free recipes, please visit our recipe page.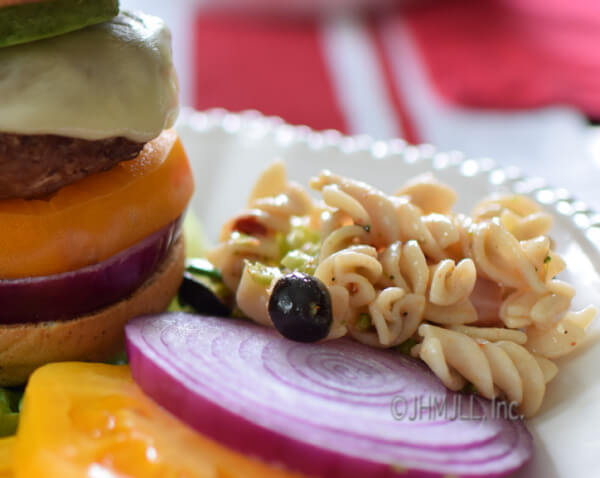 | | |
| --- | --- |
| | |
Cook pasta according to manufacturers directions. Drain and rinse with cool water until the water runs clear. This will remove the excess starch from the pasta and help it to hold together well in the salad

Take a large baking sheet and line with paper towels. Take the rinsed pasta and lay it evenly over the paper towels to soak up excess water. Let sit for 10 minutes.

Chop up all the ingredients and place in a large mixing bowl. Add pasta and dressing

Mix together all the ingredients gently

Store in an airtight container in the refrigerator, salad will keep for up to 2 days.
This Italian Pasta Salad recipe is gluten free.