Nothing says Happy New Year quite like a refreshing Bloody Mary on New Year's morning. Not only are they delicious, but if you just happen to wake up with a slight headache, this may help.
Of course, an excellent tomato juice is the key to a good Bloody Mary. It is important to find a good quality juice. The Italian section of your local grocer is a great place to find one.
We prefer Tito's vodka but since there are many gluten free vodkas made from potato, corn, as well as grapes, so choose your favorite.
You can always adjust the hot sauce and horseradish to your taste, adding more or less depending on the amount of heat you like. I recommend at least a little horseradish together with the hot sauce for the flavor that it adds to the drink.
Not only are Bloody Marys delicious, but it is just amazing what people garnish their drinks with. I have seen everything under the sun stuffed onto the rim of the glass for a garnish. I love a lot of garnishes and try to use as many as possible. We set up a Bloody Mary bar every year at our annual fishing derby.
Here are some of the garnishes we put out:
celery
shrimp
string cheese
pickled asparagus
dilly beans
bacon
pearl onions
grape tomatoes
This recipe is equally great with or without the vodka. As a matter of fact, I usually enjoy my drink without alcohol. Delicious with or without alcohol or garnishes, by all means make yours to be uniquely your own.
Of course, please always drink responsibly and please, please, please never drink and drive!
For more delicious gluten free recipes to start off your New Year, please visit our recipe page.
Need help finding gluten free items in your grocery store? Download our free mobile app with scanner today to ease the stress of shopping for gluten free products.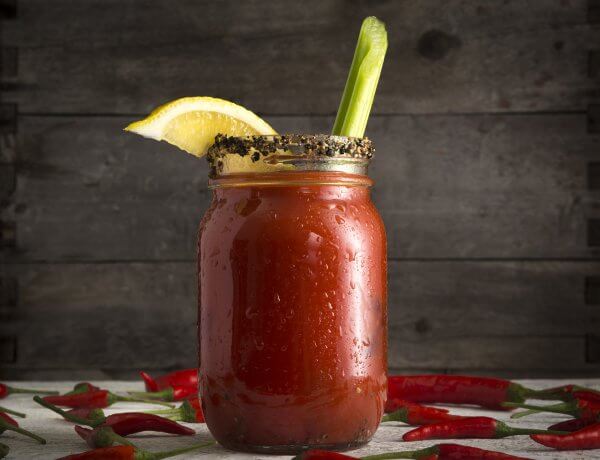 | | |
| --- | --- |
| | |
Take a lemon wedge and run around the rim of a pint glass, set aside

In a small shallow bowl or plate, add the celery salt. Place glass upside down and push gently into the celery salt to cover the entire rim with salt

In a separate glass, jar or tumbler (I use a mason jar with a lid to get a good shake)add the tomato, lemon and lime juice

Add the remaining ingredients and stir or shake well.

fill the pint glass with the celery salt to the rim with ice and then pour in the Bloody Mary mix

Add the garnish, sip and enjoy!