All year, we use our grill as often as we can, but it really gets a workout when warm weather finally comes to stay. We grill everything and nothing is off limits, but there is nothing better than a perfectly grilled steak.
My husband has always been the go to person for grilling in our house. And I love having the help with dinner. Many hands always make for lighter work and we really do enjoy cooking together.
I was not always comfortable with grilling steak on my own. I am a penny pincher at heart and after every trip to the butcher shop, I would get nervous over the thought of destroying an expensive cut of meat. It frustrated me that I wasn't comfortable grilling steaks, so I asked my husband for some coaching. I learned that less is definitely more.
My favorite steak to grill is a rib eye. Other great cuts are Filet mignon, T-bone, Porterhouse, Flat iron and New York Strip. We top our beautiful, perfectly grilled steaks with our balsamic mushrooms. It really is a delicious combination.
Grilled steak is a favorite menu request all year long in our house, but every Father's Day they always seem to find their way onto our grill.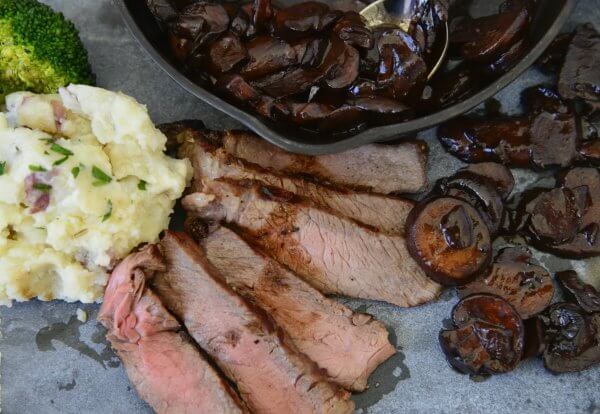 | | |
| --- | --- |
| | |
30 minutes before grilling time, remove steaks from the refrigerator and allow to come to room temperature.

Lightly brush steaks with olive oil and season generously with salt and pepper.

Place prepared steaks on grill and let cook for 4 minutes. Do not move the steaks once you have placed them on the grill.

Turn steaks over and continue to cook for the following times: Medium Rare (internal temperature of 135° F) - 3-5 minutes Medium (internal temperature of 140° F) 5 - 7 minutes Well Done (internal temperature of 150° F) - 8-10 minutes

When steaks are finished, remove from the grill and place on a serving platter, cover with aluminum foil and allow to rest for 5 minutes before slicing or serving.
This Perfectly Grilled Steak recipe is gluten free and dairy free.