I have a confession to make. I am not a huge fan of traditional fruit pies. Instead of mostly fruit and a little crust, I prefer a more equal proportion of crust to fruit. Rustic pies fill that bill perfectly, for me. This rustic apple pie does not require a pie pan, which allows you to make it any shape you like. If you do not like apples, try another fruit. My family loves using pears in our pies.
Rustic pies are also a perfect baking project to make with your children because there are not any complicated techniques, just simple ingredients and no wrong way to fold the dough. For me, working together in the kitchen as a family is what makes the holidays memorable.
For more delicious gluten free recipes, please visit our recipe page.
Need help finding gluten free items in your grocery store? Download our free mobile app with scanner today to ease the stress of shopping for gluten free items.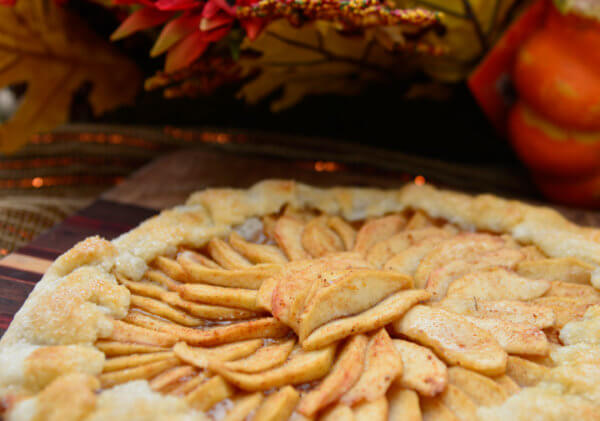 | | |
| --- | --- |
| | |
Combine flour, xanthan (if needed), salt, and sugar into a large bowl. Whisk until well combined.

Add shortening that has been cut into small pieces into the bowl. With a pastry cutter or two forks, cut shortening into the flour until the entire mix is crumbly.

Add vinegar and 1 tablespoon of cold water. Continue cutting, adding 1/2 tablespoon of cold water at a time until a dough forms.

Form dough into a ball and then press down into a disk. Cover with plastic wrap. Refrigerate for 2 hours or overnight. If making dough ahead of time, simply leave the well wrapped dough in the refrigerator until needed.
Preheat oven to 350 degrees. Peel and thinly slice apples. In a bowl, mix apples with lemon juice.

Combine, sugar, tapioca flour, cinnamon and nutmeg. Whisk until well combined.

Combine sugar spice mixture with apples and gently fold together until well blended. Set aside.

Place dough on silicone baking mat or parchment paper covered cookie sheet. Place plastic wrap over dough and gently roll out to a 1/8" thickness circle or rectangle.

Remove apple slices from bowl leaving extra liquid behind. Arrange slices in the center of the dough in your desired pattern. If desired, sprinkle top of apples with additional cinnamon.

Gently fold over edges of dough onto the fruit, leaving the center of the pie open. If your dough rips, wet your hands and put it back together.

Beat egg slightly and then gently brush top of dough. Sprinkle raw sugar on top of the dough. If you need to avoid eggs, brush the top of the dough lightly with a very small amount of water and then sprinkle with sugar.

Bake in a 350 degree oven for 30-35 minutes or until the crust is lightly golden and fruit is bubbly.
*If your gluten free flour mix does not contain xanthan gum, add 1/2 teaspoon xanthan gum to your flour mix.
You can make the dough ahead of time and leave it, tightly wrapped in plastic wrap in the refrigerator until the day you need it. Set it out on the counter for a few minutes before you roll it out to make your pie.
This pie can be also made ahead and refrigerated to store for 2-3 days. Heat before serving.
This Rustic Apple Pie recipe is gluten free, dairy free, vegetarian and vegan.