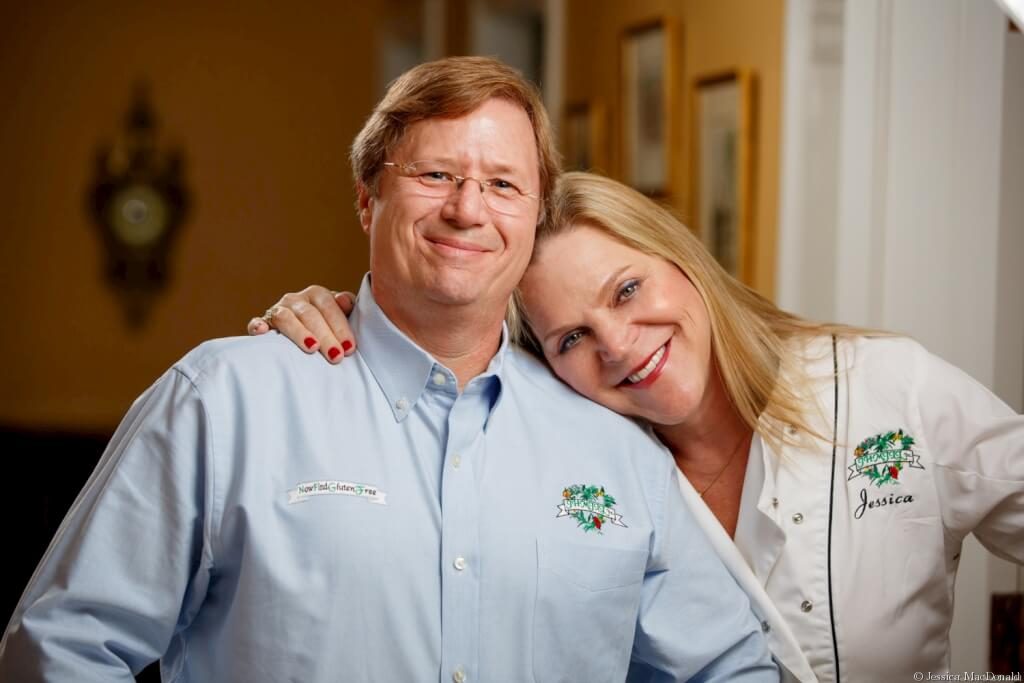 About JHMJLL Inc. and NowFindGlutenFree:
Jessica MacDonald
Co-Founder and Chief Executive Officer
CEO@JHMJLL.com
The mother of five children, Jessica spent years devoted to family. When the children were all in school Jessica began her career in the arts. As a professional photographer, Jessica was able to meet amazing people and help capture and share their most joyous events. Four years ago, Jessica was given a diagnosis that forced her to change the way she thought about food entirely. She was gluten intolerant and needed to give up gluten completely!
Being thrust into the gluten free world was overwhelming. With no knowledge and just a smartphone, she would wander through the grocery store aisles for hours trying to unravel the myriad of food labels and unpronounceable mystery ingredients in every box, can, or package.
By going gluten free, Jessica was able to lose a significant amount of weight. Her cholesterol and sugar levels improved significantly, thus allowing her to stop taking prescription medications that she was told would be necessary forever. Her RA has improved dramatically and inflammation is now controllable through diet and exercise. Seeing the changes in Jessica and Justin, people starting asking Jessica to help them unravel the mystery for them too. Jessica realized that there was a need for people to understand what was in their food, whether by necessity or choice. Hence, was born the idea for the apps that we are offering for you today.
Justin Lee
Justin Lee
Co-Founder and Chief Operations Officer
COO@JHMJLL.com
For 25 years Justin has designed, sold, and implemented game changing solutions for multi-national corporations with both large and small software companies. Justin has the belief that there is no box for your thoughts, and that the customers deserve significant value immediately. The JHMJLL Inc. applications are designed to place serious time and money saving power into the hands of those who need it, by providing highly accurate information into an easy to use application for the millions that want to eat healthy.
By making a Healthy Eating Lifestyle Choice of eating Gluten Free and Organic, Justin has been able to eliminate his cholesterol and blood pressure medications, along with 50 hard to loose pounds in 2 years. Not looking at it as a diet but instead making it a lifestyle change, Justin found the results are sustainable for life. It was not easy at first, but Justin has been using Now Find Gluten Free since its early development stages and can truly say it has made it a whole lot easier.
"If you are not eating healthy now, your next meal can always be the start of your Healthy Eating Lifestyle".
About JHMJLL Inc.
JHMJLL Inc.,
Jessica MacDonald and Justin Lee founded JHMJLL Inc. in 2014. We take our goals as The Healthy Eating Lifestyle Company and as a gluten free, organic, family-run company to heart. We believe that our mobile applications, whose sole focus is to support your Healthy Life Choices, will benefit all who use them. The applications we develop will be available for iOS and Android platforms, along with companion websites sharing real life guidance, easy to make recipes, and experiences. JHMJLL Inc. is dedicated to help millions keep their commitment to eat healthier, whatever their reason.
Please visit us at www.JHMJLL.com for more information about our company.
Privacy Statement for NowFind Gluten Free website
Terms of Use for NowFind Gluten Free Website
Terms of Use for NowFind Gluten Free Mobile Application
Sweepstakes Rules and
Information Accuracy for JHMJLL Inc.
JHMJLL, Inc. All the products in the NowFindGlutenFree database are either Certified Gluten Free and/or claimed Gluten Free by the manufacturer. JHMJLL Inc. cannot take responsibility for the accuracy of the manufacturers published product information. We strongly recommend that our customers exercise common sense when purchasing products. For your safety, we do not allow our users to add products to the database.
Liability Statement for JHMJLL inc.
JHMJLL Inc. and its employees take no responsibility for the use of the NowFindGlutenFree app and or any damages that can occur by its use. JHMJLL, Inc. only uses products that are third party verified or manufacturer claimed gluten free. Consumers are responsible for reading labels and exercising caution-selecting products that are said to be Gluten Free.
Jessica and Renee.
We were neighbors when our children were young. Over sixteen years later, we both found out that we needed to be gluten free for different reasons.
After being frustrated grocery shopping for gluten free items, Jessica and Justin began talking about developing an app that would help make shopping easier. The idea for a companion website was born! And here we are.
We hope that you join us on our journey and that the app and the website make your life a little simpler.