I love making soup, the possibilities are endless when it comes to the different kinds of soup recipes you can create. Whenever I make this 15 Bean Soup recipe I always plan on making a little extra. It freezes well and is perfect for those cold winter nights, school lunches and when you want to bring soup over to help out a sick friend.
My son Zach absolutely loves this soup. Whenever I pull out the big soup pot his eyes light up and he asks if I am making his favorite, always hopeful that the answer is yes.
You can find the bean mix in the bulk aisle or in the soup aisle by the beans, it usually comes in  a plastic bag complete with a "flavoring" packet. The flavoring pack is suspect as far as I am concerned, so I toss the flavoring pack in the trash. If the flavoring packet is gluten free that is totally optional.
The beans will need to soak overnight so there is some advanced planning required.
For more delicious gluten free recipes, please visit our recipe page.
Need help finding gluten free items in your grocery store? Download our free mobile app with scanner today to ease the stress of shopping for gluten free items.

You can use 1/2 lb. of bacon if you do not have ham available. It works just as well. If using bacon, dice the bacon into 1 inch pieces and add to the soup pot before the onions and celery. Cook for 10 minutes or until the bacon is thoroughly cooked but not crispy. Drain the grease from the pot and then follow the directions accordingly.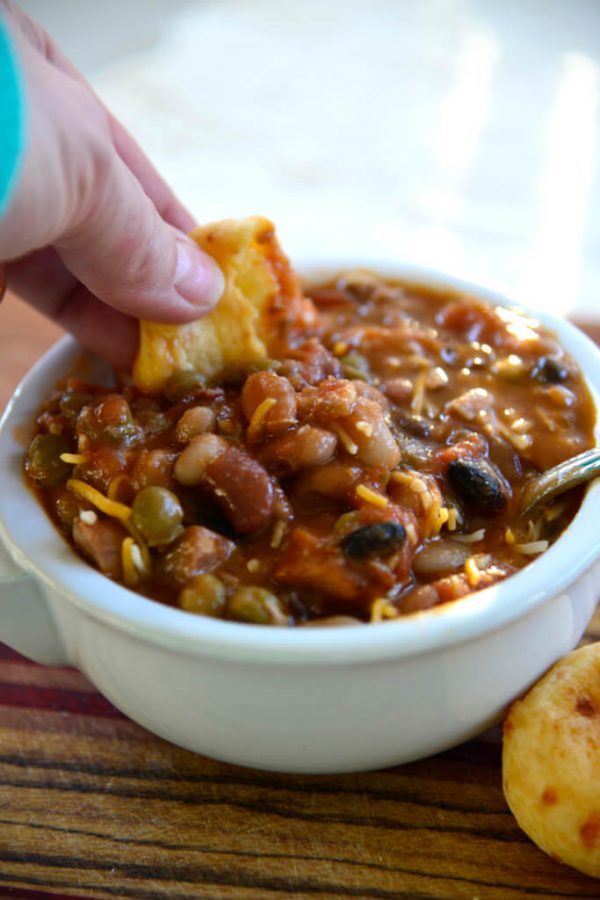 | | |
| --- | --- |
| Cook Time | 1 hour 15 minutes |
| | |
| --- | --- |
| Cook Time | 1 hour 15 minutes |
You will need to sort through the beans, rinse and then soak them overnight. Look for tiny pebbles while sorting through them. I rinse them thoroughly and then put them in a large soup pot and cover the beans completely with water. They will expand so add extra water, about 12 cups

When you are ready to make the soup, strain the beans in a strainer and rinse thoroughly. Set aside.

In a large soup pot add the olive oil, onion and celery. Cook on medium heat for about 15 minutes

Add the beans and remaining ingredients to the pot and stir well

Cover and cook for 2 - 2/12 hours, stir occasionally. You can tell the soup is done if the beans are soft but not mushy

Garnish with shredded cheese if desired
You can freeze servings in plastic bags or mason jars, if using mason jars leave enough headspace for expansion.
This 15 Bean Soup recipe is gluten free and dairy free.