Hummus is one of my favorite snacks. I usually grab a tub or two of hummus while I am at the grocery store and Roasted Red Pepper Hummus is always one of the flavors that I grab.  Recently my husband asked me how come I don't just make hummus and I had to stop and think for a minute. The answer was, I have no idea!  So started my hummus creation journey. I have since made a variety of different flavors and there is absolutely no limit to what you can make.
For a quick, no hassle red pepper hummus I use jarred roasted peppers. You can make your own roasted peppers for the recipe, if you wish, but I used store bought. For me personally, I think it is much simpler. I buy organically roasted peppers with Italian flavoring.
Hummus is more than just a vegetable dip. Try it on a sandwich instead of mayonnaise or mustard. Hummus can be used to coat chicken, pork or fish prior to cooking or as a condiment alongside your protein of choice. It really is a versatile dish that is simple to make and easy to work with.
To see more of our delicious gluten free recipes, please visit our recipe page.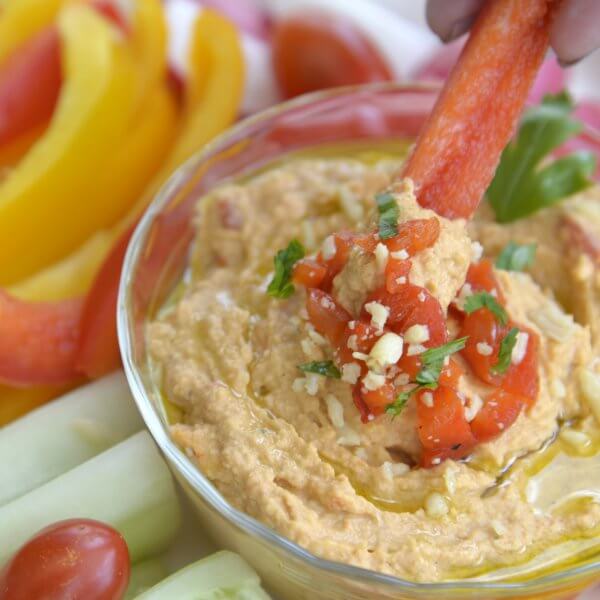 | | |
| --- | --- |
| | |
Add chickpeas, roasted red pepper, garlic, tahini and lemon juice to a food processor or a multi-function blender like Vitamix or Blendtec. Pulse while adding olive oil a bit at a time until you reach the desired consistency.

Add paprika and salt to taste

Serve chilled or at room temperature