This Acorn Squash recipe adds a slight twist to the traditional version of roasted acorn squash. A sweet, buttery squash with a hint of cinnamon, allspice and hazelnut. This recipe is great for any week night or holiday meal.  It is relatively easy to make and the kids love it!
The toughest part in this recipe is cutting the squash in half. Use caution and a sturdy, sharp knife, making sure to keep your fingers out of the way. If you are nervous, start with a small cut into one of the squash's furrows. Once you have an initial cut you can adjust your knife and make the cut larger. Continue to work until you are a little more than half way and then flip the squash over and start from the other side. Don't try to cut through the stem. Once you have cut all the way around, grab both sides of the squash and twist. The squash will break in two and the stem will stay with one side. You can roast the squash with the stem intact.
Sign up for our monthly newsletter for more great recipes delivered every month.
For more delicious gluten free recipes, please visit our recipe page.
Need help finding gluten free items in your grocery store? Download our free mobile app with scanner today to ease the stress of shopping for gluten free items.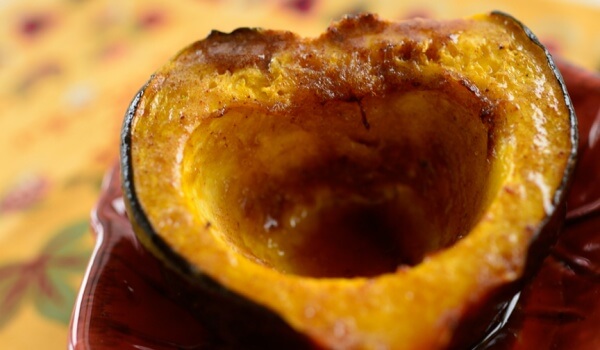 | | |
| --- | --- |
| | |
Cut squash in half and remove seeds and pulp (the stringy stuff.)

Line baking dish with aluminum foil, place squash cut side down roast squash for 30 minutes.

Melt butter in saucepan and add hazelnut, allspice, cinnamon and brown sugar, mix well.

Remove squash from oven and turn the squash over. Brush butter mixture over both halves and fill cavities with remaining butter mixture. Return to oven and bake for another 30 minutes.

Squash should be fork tender (the fork should easily pierce the squash). It may take a little longer to cook depending on the size of the squash.
This Acorn Squash recipe is gluten free, dairy free, vegetarian, vegan and organic.