This recipe came straight out of the my favorite recipe book from my Gramma. She would throw an Apple Brown Betty together when unexpected company showed up or when she had extra apples. It was the dessert that showed up most often on her Sunday dinner table. The smell of apples and cinnamon would fill the house and have everyone wandering into the kitchen to see if they could get a scoop.
It is a simple recipe that is quick to put together in ten minutes or so. Throw it in the oven right before dinner and it will be piping hot and ready in 45 minutes. If you don't have any apples, you can use pears, or use a mix of apples and pears. I like to use a mix of sweet and tart apples like Granny Smith with Gala apples.
Get the kids involved making the topping while you cut up the apples. The beauty of this dessert is that none of it has to be perfect. It all comes together beautifully in the oven.
Serve Apple Brown Betty piping hot in a bowl, topped with ice cream. It just doesn't get any better than that.
For more delicious gluten free recipes, please visit our recipe page.
Need help finding gluten free items in your grocery store? Download our free mobile app with scanner today to ease the stress of shopping for gluten free items.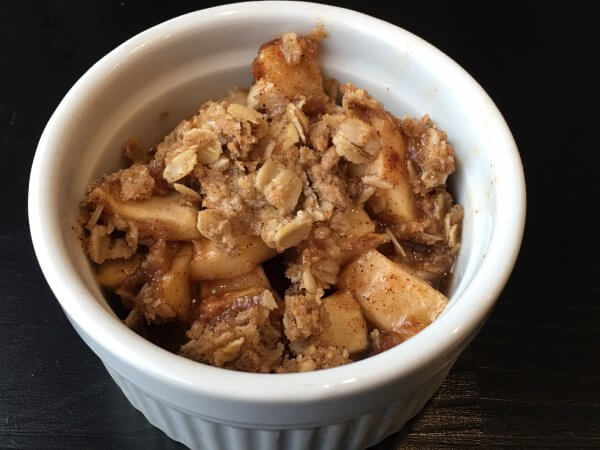 | | |
| --- | --- |
| | |
Preheat oven to 325 degrees. Peel and core apples. Slice into equal size pieces.

In a large bowl combine all the apple filling ingredients. Mixing well until the apples are well coated.

Spray an 8x8 pan with cooking spray. Pour apple filling into the pan.

Combine all the topping ingredients in a bowl. With your hands or a pastry cutter, mix until well combined.

Cover apples with topping and bake in a 325 degree oven for 45-50 minutes or until the top is crunchy and the filling is bubbly.

Serve with ice cream or frozen yogurt.
Refrigerate any leftovers in an airtight container.
This Apple Brown Betty recipe is gluten free and vegetarian. *Dairy free with substitution.