I love being in the kitchen, but sometimes I just need to get in and get out. I have a list of weekly staples that my family depends on finding in the pantry and that includes bread. I developed this recipe after a very long day in the kitchen. The bowl to my stand mixer was in the sink and I just couldn't bring myself to wash it again. Bread in a bowl was born.
Tender with a nice crust, this bread is perfect for sandwiches or toast.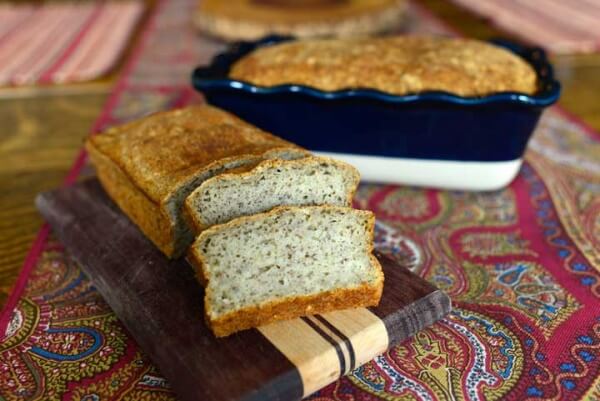 Passive Time

20-30

minutes
Passive Time

20-30

minutes
Spray the bottom of two 9x5 loaf pans with cooking spray. Preheat the oven to 400 degrees.

In a large glass measuring cup or bowl, measure out the warm water (112-115 degree), sugar and yeast. Stir to combine and set aside to bloom.

In a large bowl, measure out the gluten free flour mix, milk powder, psyllium husk, xanthan gum, baking powder, and salt. Whisk well to combine.

In a smaller bowl, measure out the lemon juice, sunflower oil, and eggs.

Add the yeast mixture and the egg mixture to the large bowl. Mix until all ingredients are well combined. Dough will have a bubbly appearance.

Divide the dough equally between the two 9 x 5 loaf pans. With very wet hands, smooth the top of each loaf, re-wetting hands as necessary. Cover loosely with plastic wrap that has been sprayed with cooking spray.

Set loaf pans in a warm area and allow to proof for about 20 or 30 minutes or just until the bread begins to crest over the top of the pan.

Bake in a 400 degree oven for approximately 40 minutes until the internal temperature of the loaves measures 210-215 degrees. Tent loaves with aluminum foil to avoid excessive browning.

Place pans on cooling rack for ten minutes. Run a thin knife or spatula around the edges of the pan and invert bread onto cooling rack. Allow bread to cool completely.
This Bread in a Bowl recipe is gluten free and vegetarian.