Toffee. Just the word makes you smile. Crackly and crunchy with a buttery taste that melts in your mouth, toffee is amazing. This sweet and salty candied bacon toffee will delight the carnivore with a sweet tooth in your life. It is incredibly delicious and addicting. You will find yourself making it again and again.
When I think of toffee, I remember being a child, in the heat of the summer, standing front of the huge front window of an old fashioned confectioner's shop with my grandmother. We would watch the ladies making fudge, toffee and other sweets through the big front window. The sight and smell of those sweets was amazing. Making this toffee always brings back those wonderful memories.
This toffee is a great treat for Father's Day. Surprise Dad with it as the perfect ending to his day. For a unique holiday gift, make a huge batch of this toffee to wrap in cellophane and give away.
Cooking Notes:
You will need a candy thermometer to make this recipe.
Because toffee requires heating butter and sugar to very high temperatures, this is not a child friendly recipe.
For more delicious gluten free recipes, please visit our recipe page.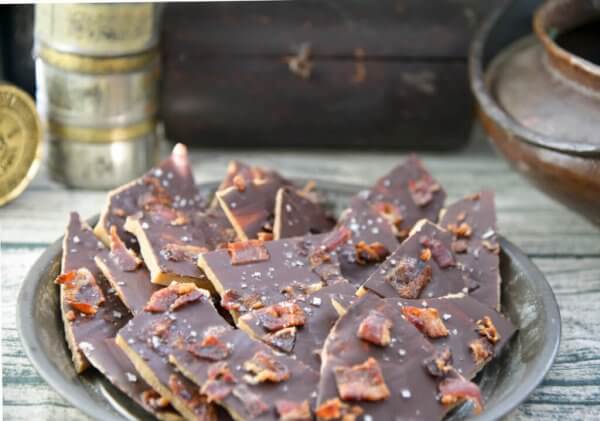 Passive Time

30

minutes to 1 hour
Passive Time

30

minutes to 1 hour
Preheat oven to 375°. Line a baking sheet with aluminum foil.

Measure out brown sugar and maple syrup into a small bowl and mix well. Lightly brush bacon on both sides with brown sugar mixture and lay out on the prepared baking sheet.

Bake for 10 minutes, flip and bake for 10-15 minutes more or until very crispy. Watch the bacon carefully to prevent burning. Note: If the sugar burns on the pan, transfer bacon strips to a second prepped baking sheet and continue baking until crispy.

When bacon is crispy, remove from oven and place on cooling rack. When cool to the touch, trim away any uncooked fate and then cut bacon strips into 1/4-1/2" pieces. Set aside.
Line a large baking sheet with aluminum foil or parchment paper. Using the additional tablespoon of butter, generously butter the aluminum foil or parchment paper. Set baking sheet aside. Do not use cooking spray, your toffee will become greasy.

In a heavy bottomed saucepan with a candy thermometer attached, combine butter, sugar and salt.

Heat on medium low, stirring constantly until the butter is melted.

Stirring slowly and consistently, allow mixture to come to a boil.

Continue stirring and cook until the mixture becomes dark golden brown and reaches 300°. To double check, place a tiny drop of the mixture into a glass of ice water. It will form hard brittle threads that will break when bent.

Being careful not to splash yourself, pour toffee mixture onto the prepared baking sheet. Allow the toffee to spread out. If necessary, butter coat the back of a spoon and spread out the toffee.

Sprinkle toffee with the finely chopped chocolate. Allow 2-3 minutes for the chocolate to soften and then spread it out evenly over the toffee.

Immediately sprinkle bacon all over the chocolate, gently pressing the bacon into the chocolate. If desired, sprinkle chocolate with flake salt.

Refrigerate until set, about 30 minutes-1 hour.

Break into pieces and store in refrigerated airtight container until needed.
Special equipment: candy thermometer
This Candied Bacon Toffee recipe is gluten free.