When a Brazilian Steak House opened up by our home, my husband and I decided to go there for dinner. If you have not tried a Brazilian steak house, I would encourage you to check one out if you ever have the chance. The majority of the food is gluten free and the selection of delicious grilled meat combined with a monstrous salad bar, is simply amazing.
Once seated, our waitress came over, introduced herself and placed a basket of rolls on our table. Immediately, my husband told her that we couldn't eat them because we are gluten free. I wish we had a picture of our faces when she told us that they contained no wheat at all and were safe for us to eat.
I won't tell you how many baskets of rolls we had that night – but it was quite a few. And like every other new and delicious discovery, on the way home, our conversation immediately turned to whether or not I could replicate the rolls at home.
After a few initial attempts and constructive criticism from my ever willing family, this recipe is the clear winner. The cheese that gives the roll a crunchy outside, while the inside is soft and stretchy from the tapioca flour. When I make this recipe, I always double it. If there are any leftover rolls, I leave it to our children to fight over who will take them home.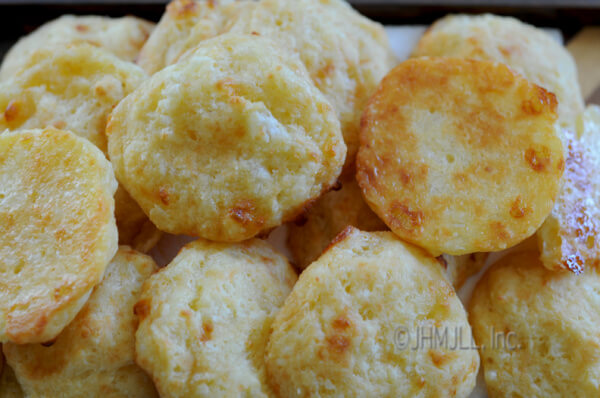 Passive Time

10-15

minutes
Passive Time

10-15

minutes
In a saucepan, measure out olive oil, water, milk and salt

Bring to a boil and then remove from heat.

Add tapioca flour and minced garlic and stir vigorously with a wooden spoon until smooth. This should take about five - ten minutes, depending on how aggressively you stir. It's important to stir the mix until it is smooth; it improves the texture of the bread. If you find it difficult to stir the dough, you can put it in a stand mixer with a dough hook on medium for 3-4 minutes.

Let stand until it is cool to the touch - about 10-15 minutes

Add eggs and mix until well incorporated.

Add both cheeses and mix well. The dough will have the consistency of cottage cheese.

Spoon into an ungreased mini muffin pan, filling almost to the top or scoop and roll 1/4 cup of the dough into a ball and place on an ungreased baking sheet.

Bake at 375 degrees, on middle rack for 20-25 minutes or until the tops are golden brown.

When done, remove from muffin pan or baking sheet immediately. If they cool while on the pan, they will stick. If desired, place on brown paper bag or paper towels to remove excess oil.
If you do have leftover rolls, you can store them in the refrigerator in a plastic storage bag. Make sure that they are completely cooled before you put them in plastic.
To reheat, place the rolls on a warm baking sheet in a 200 degree oven until warmed through and crispy.
This Cheesy Bread Rolls recipe is gluten free and vegetarian.
This recipe is: Gluten Free, Vegetarian