A bombe is a layered frozen dessert that is molded into a round shape.  Originally a french dessert, bombes are a super easy dessert to put together and they make ice cream just a little fancier for all your celebrations. So we created our very own version of a Chocolate Cherry Bombe cake.
Using store bought ice cream and Magic Shell©, You can assemble this bombe ahead of time, using store bought ice cream and Magic Shell©.
Impress everyone at your celebrations with this Chocolate Cherry Bombe and only you will know how easy it is to make.
We have created a chocolate cherry bombe for this recipe, but we encourage you to use your own favorite flavor combinations for endless, delicious, dessert possibilities for your celebrations.
You will need freezer safe nesting bowls to make this bombe.
Slice your bombe, with a hot, sharp knife for clean slices.
Try one of our other ice cream cakes and sign up for our newsletter for new and exciting recipes.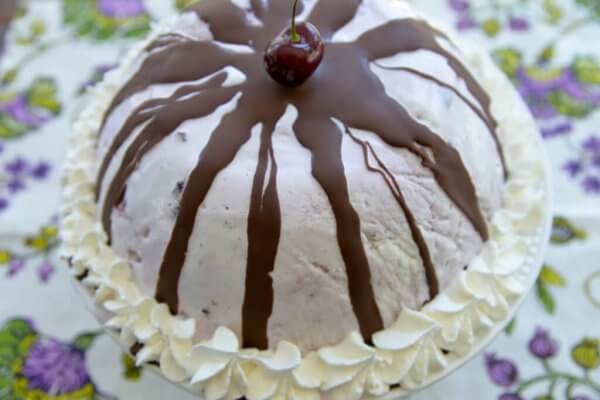 | | |
| --- | --- |
| | |
Wrap the inside of a 3 quart freezer safe bowl with plastic wrap. Completely wrap a 1 quart freezer safe bowl in plastic. Place bowl in freezer until well chilled.

Scoop out cherry vanilla ice cream and press all of the ice cream evenly against the sides of the chilled 3 quart bowl.

Gently press wrapped 1 quart bowl into the center of the 3 quart bowl. on top of the cherry vanilla ice cream.

Cover top of 3 quart bowl with plastic wrap and freeze until the ice cream is firm, about 1 hour.

Remove bowl from freezer and gently remove 1 quart bowl from center.

Shake Magic Shell© well. Working in small sections, spread the half of the Magic Shell© onto the inside of the cherry vanilla ice cream. Allow to harden.

Once the Magic Shell© has hardened, press chocolate ice cream into the center of the bowl on top of the Magic Shell©. Smooth out top, cover well in plastic wrap and freeze until hard, about 1 hour.

To plate: remove from freezer, quickly dip bowl once, halfway in a larger bowl of room temperature water. If you do not have a larger bowl to fill with water, hold the bottom of the plastic wrapped bowl under running room temperature water for just a few seconds. Dry off bowl, and remove plastic wrap from the top of bowl. Invert bowl onto serving plate. Gently remove bowl from ice cream once it releases onto plate. Remove any remaining plastic wrap.

Shake remaining Magic Shell© well. Drizzle across top of bombe. Top with pitted, fresh cherries as desired before shell hardens. Place your plated Chocolate Cherry Bombe back in freezer until ready to serve.
This Chocolate Cherry Bombe recipe is gluten free and vegetarian