Scones have rapidly become a new obsession of mine and this recipe is simple and quick. These delicious scones are actually considered a quick bread so no mixer is required. You need to mix the dough with a gentle hand. Make sure that your bowl and butter are really cold and you have the beginnings of a delightful treat!
I love that they are just a tiny bit sweet. These gluten free, chocolate chip pecan scones are perfect with a cup of coffee or tea any time of the day, but my husband and I especially love to have these on the weekend mornings with our coffee when we have time to catch up with each other.
Traditionally served with jam and clotted cream, we enjoy ours warmed up with Jessica's homemade jam and a bit of whipped butter. I also have it on good authority that they are delicious when dunked into a steaming cup of hot chocolate.
Once you pat your dough into a circle, cut the dough into whatever size scones you prefer, whether that be eight large, twelve small, or somewhere in between. If you prefer, you can also cut them out with a round cookie cutter. Be careful to watch your baking time. Whatever size you choose, you want  lightly golden tops and golden brown bottoms.
For more delicious gluten free recipes, visit our recipe page.
Need help finding gluten free items in your grocery store? Download our free mobile app with scanner today to ease the stress of shopping for gluten free items.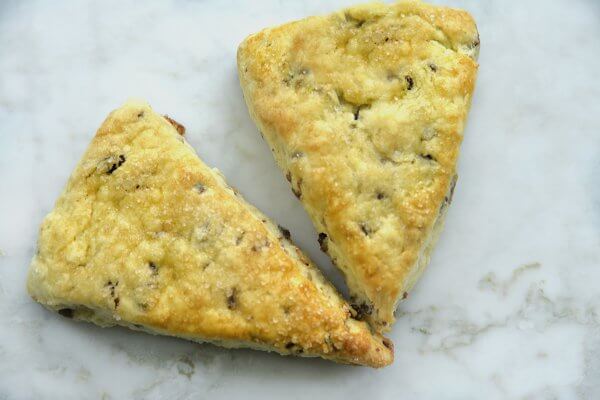 | | |
| --- | --- |
| | |
Chill a large mixing bowl.

In a separate small bowl, beat eggs. Remove 2 tablespoons of beaten egg and set aside.

Measure out dry ingredients into the chilled bowl. Whisk until well combined.

Drop chilled butter pieces into the dry ingredients. With your fingers, knead the butter until it is combined with the dry ingredients and the size of small peas.

Add pecans and chocolate chips. Mix well to incorporate.

Make a well in the dry ingredients. Into the well, pour 1 cup of the cream and the beaten eggs minus the 2 tablespoons.

Gently mix the milk and eggs into the dry ingredients until a dough is formed. Adding small amounts of milk as needed to make sure all the dry ingredients are incorporated. The dough should be soft, but not sticky.

Turn dough out onto a floured surface. Gently fold the dough in half, and press flat. Repeat twice more.

Place dough onto a parchment covered baking sheet and shape into a circle 3/4" thick.

Dip a bench knife or pizza cutter into flour and cut dough into 8 equal triangles and then gently separate.

Brush triangle tops with reserved beaten egg and sprinkle with raw sugar, if desired.

Refrigerate scones for 15 minutes before baking. Preheat oven to 375° while the scones are chilling.

Bake scones for 25-30 minutes until the tops are lightly browned and the bottoms are golden brown.

Wrap any leftover scones in plastic wrap and refrigerate for 1-2 days.
This Chocolate Chip Pecan Scones recipe is gluten free.