I have never been a morning person. Which is funny, considering all the years of starting work before dawn when I worked in the bakery business. I guess you do what you have to do, right? Making breakfast, early in the morning, is not something I look forward to. This cinnamon maple quinoa saves me from having to engage my brain before coffee. Which is a very good thing.
The fact that it is delicious and healthy is a delightful bonus. And since oatmeal has decided that it no longer agrees with me, quinoa has stepped up to take its place.
I make a double batch of this quinoa on Sunday afternoon. It keeps beautifully in the refrigerator all week long. It makes enough for me to enjoy it 3 times a week and still share with my family.
This quinoa is just sweet enough to not need  any sugar, but not too sweet. It is warm and comforting and reminds me of the oatmeal that my mom would make me when I was little.
I chop up pecans or walnuts and keep a big bowl of clean berries in the refrigerator to top our quinoa, but you can use whatever you like for yours. I mix my warm quinoa with almond milk and my daughter tops hers with almond milk yogurt and berries.
If you are missing oatmeal or just looking for an easy, fast and nutritious breakfast, try this cinnamon maple quinoa.
For more delicious gluten free recipe ideas, please visit our recipe page.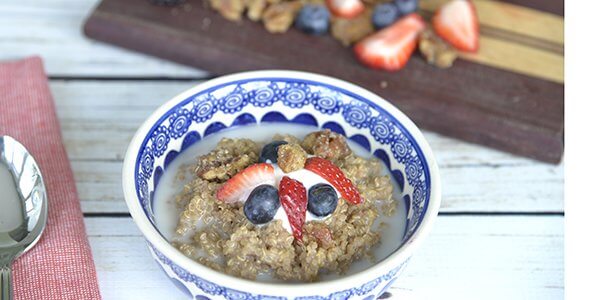 | | |
| --- | --- |
| | |
Add first four ingredients into a pot and bring to a boil.

Add rinsed quinoa to pot and while bringing back up to a boil.

Reduce heat to low and cover pot with lid. Cook for about 15 minutes - until quinoa is soft and you can see tiny spirals.

Turn off heat and allow to sit, covered for 5 minutes while you prepare toppings.

Scoop about 1 cup of cooked quinoa into a bowl and top with desired toppings.

If preparing ahead of time, after the quinoa has sat for 5 minutes, allow quinoa to cool. Refrigerate in an airtight container until needed.

To reheat quinoa: Scoop out appropriate serving into a microwave safe bowl. Microwave until desired temperature is reached. Top as desired.
This Cinnamon Maple Quinoa recipe is gluten free, dairy free, vegetarian and vegan.