Last weekend we had our first gluten-free expo; it was so nice to be around so many gluten-free people. It was refreshing just to be in a place where you know everything is safe for you to eat. It was such a wonderful experience talking to so many people and hearing their stories. I was honored and truly touched by so many people.
When I got home, I was exhausted and the last thing I wanted to do was cook. My son JJ was telling everybody at the show about my pot roast and how good it was, so I thought, you know, I've heard so much about the pot roast this weekend, why not make one? The pot roast is so easy to make; it literally takes five minutes. I wrote this recipe specifically for a crock pot.
What I didn't plan on, was not defrosting my chuck roast. I stood in my kitchen at 7:30 in the morning and thought, now what? So I rolled with it figuring what would be the worst thing that happened? Raw meat, maybe. I didn't have the time for a plan b, so I threw the frozen chuck roast into the crock pot and crossed my fingers.
It was amazing! Tender, moist and full of flavor, the pot roast was perfectly cooked after 8 hours. I thought that maybe it was a fluke, so I made it again. It was amazing, again. I will never defrost a chuck roast for my crock pot again.
This is a good recipe for meal planning. you can make extra buttered noodles to serve with this recipe and store the extra portion. The sauce from this recipe is the sauce used to make my homemade Beef-a-roni type dish, that tastes remarkably like the canned version, only so much better.

Forget to defrost something for dinner? Pull this recipe together in less than ten minutes, set the crock pot and walk away. Come home at the end of your busy day to a beautiful dinner. Save the sauce in the bottom of the crock pot and use it the next day to make my Beef A Roni recipe.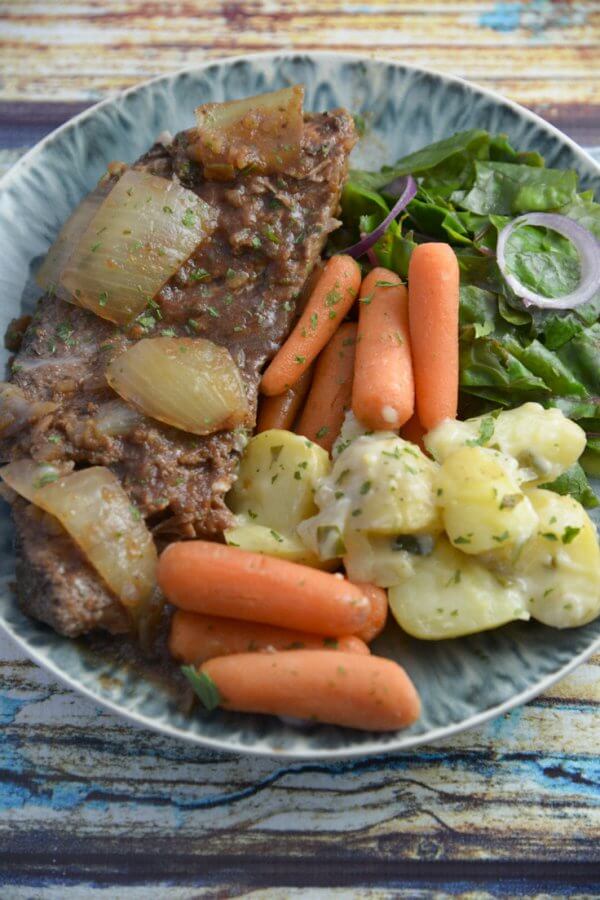 | | |
| --- | --- |
| | |
Place the roast in the crockpot and all the ingredients in order on top of the roast. be sure that you have enough beef broth to cover the roast.

Arrange carrots and onions around the roast. Potatoes are optional. For this recipe and meal planning I used buttered noodles instead.

Cook on low setting for 8 hours

Arrange roast and vegetables over noodles on a platter. Reserve the sauce if you want to make the homemade beef-a -roni.
This Crockpot Pot Roast is gluten free and dairy free.