Flourless brownies with a hint of raspberry make these brownies sweet and tangy, smooth and creamy.
Warning –  these brownies can be highly addictive!
Here is a link to our Buttery Chocolate Frosting Recipe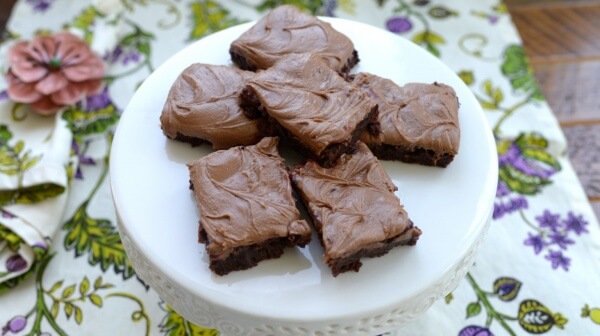 | | |
| --- | --- |
| | |
Preheat oven to 350 degrees. Line an 8x8 pan with aluminum foil allowing for extra length on each side. Spray with cooking spray.

On low heat, melt butter and chocolate chips, stirring frequently to prevent chips from burning.

Remove from heat and allow to cool.

In a stand mixer or with a hand mixer, beat eggs, sugar and vanilla until pale in color.

Add chocolate mix to sugar mix and blend well.

Pour into prepared 8x8 pan.

Bake at 350 degrees for 20-25 minutes or until the edges just start to pull away from the pan or a tester poked in the center comes out clean. Once you place your pan in the oven, do not move it - your brownies will crack.

Place pan on cooling rack for fifteen minutes.

Until the brownies have been chilled, they will be very delicate. Carefully using the aluminum foil, transfer the brownies out of the pan onto the cooling rack. Allow to cool completely.

Refrigerate brownies until cold.

Place raspberry jam in a bowl and fork whisk until thinned out.

Apply a thin layer of raspberry jam on to the top of the brownies and refrigerate until chilled.

Once chilled, frost with our buttery chocolate frosting.

These brownies can be stored on the counter top, loosely wrapped for a few days.
This Flourless Raspberry Chocolate Brownie recipe is gluten free and vegetarian.