When my children were little, I was in a constant battle with the ice cream man who would show up everyday, exactly thirty minutes before dinner. A shrewd business move on his part, but one that drove me crazy every time I heard my children screaming from the driveway. I wish I had these fruit cups back then. Filled with fruit and marshmallow, my children would have had their sweet tooth soothed and would have still wanted dinner.
The great thing about these cups, is that all the ingredients are shelf stable. Pick the ingredients up the next time you are at the grocery store to make them anytime you want.
Let your little ones help you in the kitchen with these fruit cups. It is a great way to get them excited about eating more fruit.
And maybe, just maybe, they will keep the ice cream man at bay.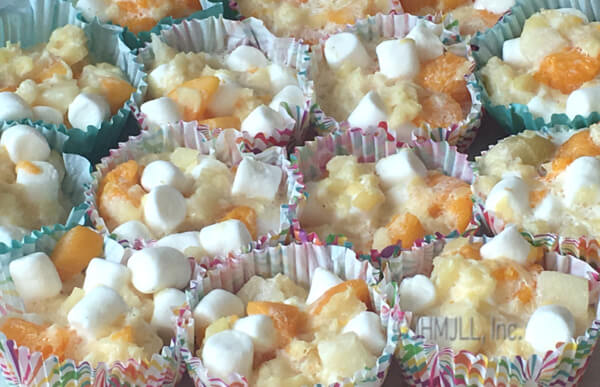 Passive Time

6

hours or overnight
Passive Time

6

hours or overnight
In a bowl, combine marshmallow creme and yogurt. Stir well until incorporated and then whisk until smooth.

Open and drain cans of fruit, reserving three teaspoons of mandarin orange syrup.

Add three teaspoons of mandarin orange syrup to the marshmallow and yogurt mixture. Stir well to combine.

Add drained fruit to the marshmallow and yogurt mixture. Stir until fruit is well coated.

Add mini marshmallows to mixture, stirring until well distributed

Place paper cupcake liners into cupcake tins and spoon mixture into the liners, filling 3/4 of the way full.

If desired, place additional mini marshmallows on top of each cup.

Place tins in freezer for 6 hours or overnight to freeze completely.

When frozen, remove from freezer and after allowing tins to warm up for a few minutes, remove frozen fruit cups and place them in a plastic freezer storage bag.

Return frozen fruit cups to freezer until needed.
This Frozen Fruit Cup recipe is gluten free, dairy free, and vegetarian.