Mom loved to bake, but there was no way to keep any treats around for long with four hungry kids. So, when my brothers and I were young, we lived on snacks from the Hostess Outlet Store that was just down the road from us.  Mom would stock up our freezer with Suzy Qs, Ho-Hos, fruit pies and of course, the family favorite, Ding Dongs.
In the summers, Mom would hand out those frozen Hostess treats like they were gold. If you messed up during the day, you knew not to ask for your frozen Ding Dong or fruit pie, because the answer was always no. We didn't have air conditioning then, so there was nothing better on a hot summer's night than sitting on your back stoop with your frozen treat.
I had been working on a gluten free devil's food cake recipe for awhile. When I was happy with the recipe, I took it over to Jessica's to have her taste it. Both Jessica and my husband said that it tasted like Ding Dongs! Then they asked, is it possible to make gluten free Ding Dongs, out of the cake?
I didn't even hesitate. Of course, it is!
The first ones that I made ended up being humongous. Seriously. How could that be a bad thing, you ask? It's not, but one of them was more than enough for two or three people. I tried a few more times, trying to get the size just right. My family suffers from my endless attempts, don't they?
I went through a whole lot of round cookie cutters before I ended up cutting my cakes out with a straight sided drinking glass that was just a little over 2 1/2″ wide. By the time, they were filled and coated, they ended up being the perfect size. You can cut these out to any size that you like or you can cut the cake up into squares. I got 12 out of my pan, but there was leftover cake. If you space your cuts right next to each other, you will get 14-15 out of one pan.
Make up our devil's food cake recipe and bake it in a 9×13″ pan to make ding dongs.
If you don't want to make a cake from scratch, pick up a gluten free devil's food cake boxed cake mix, and add 1 cup of mini chocolate chips to it before baking.
When we shot the pictures for this recipe, I told Jessica that I thought that these would be adorable in mini size. If you want to make tiny, little treats, use a small cookie cutter or juice glass to cut out mini cakes. I think that they would make fantastic party treats!
You can fill your ding dongs with whatever flavor filling you desire. I have included my version of a marshmallow buttercream filling.  Finish your ding dongs by coating them or  chocolate drizzles. We were evenly divided over which was tasted better. Either way, they are simply delicious and bring back wonderful memories.
For more delicious recipes, please visit our recipe page.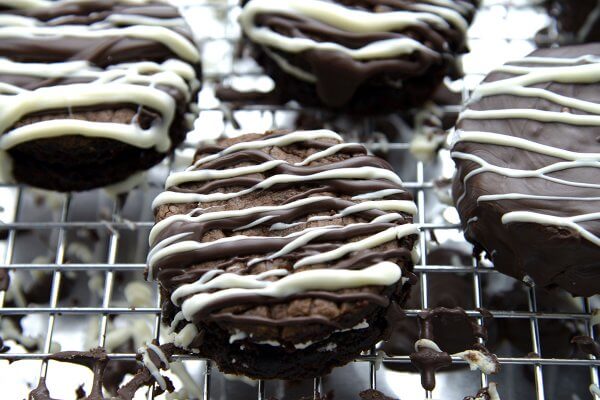 Follow directions for cake recipe and bake in a 9x13" pan. Set pan on a cooling rack and allow to cool completely.

While cake is cooling, make filling.
Place butter in a large bowl or stand up mixer and beat until light in color.

Add marshmallow creme to the butter and beat until well incorporated.

Add vanilla extract and beat until combined.

Add powdered sugar in small amounts, beating well after each addition.

If the filling becomes too stiff, add a tablespoon of milk at a time until it reaches the desired consistency.
When cake is completely cooled, cut circles out of the cake. Slice the circles in half horizontally.

Place 1-1 1/2 teaspoons of filling onto the bottom of each cake circle. Spread evenly and then replace top of circle. Press down gently. Continue with the remaining cake circles.

To coat the cake circles, in a microwave safe bowl, melt the chocolate candy wafers, by microwaving 30 seconds at a time. Stirring well in between. Once completely melted, add 2 tablespoons of olive oil to the chocolate and stir well. This will help the chocolate pour smoothly.

Place filled cake circles on a rack over a aluminum foiled covered baking sheet. The aluminum foil makes clean up easier. Using a spoon or ladle, spoon the chocolate over each cake circle, taking care to level off the top of each and to cover the sides. You can use a knife or inverted spatula to run around the sides of the circles to make sure they are well covered.

Let chocolate set. If desired, melt the white chocolate in a microwave safe bowl, 30 seconds at a time, stirring well in between. Once melted, add 1 tablespoon of oil to the chocolate and stir well. Dip a spoon into the white chocolate and drizzle the chocolate over each coated cake circle until the desired effect is reached. Allow chocolate to set.

As an alternative to coating: melt half of the chocolate wafers, adding 1 tablespoon of oil, mixing well. With a spoon, drizzle the chocolate over each cake circle. If desired, melt half of the white chocolate, adding 1/2 tablespoon of oil, mixing well. Once the chocolate has set, drizzle the white chocolate over the top of the chocolate drizzle until the desired effect is reached.
The cake and filling for this recipe can be made the day before, covered well and refrigerated. Do not cut the cake circles out until you are ready to fill and coat them as they will dry out. Allow the refrigerated filling to warm up and then stir well before filling the cake circles.
Use our delicious gluten free Devil's Food Cake to make your ding dongs.
This Gluten Free Ding Dongs recipe is gluten free and can be made dairy free with substitutions.