There are times when being gluten free presents unique challenges, but dessert should never be one of them.
These cookies have a great chocolate taste while being gluten and grain free.
Light and delicious, these grain free chocolate cookies are perfect for Passover or any occasion.
Serve them with fresh fruit and sorbet for a refreshing dessert.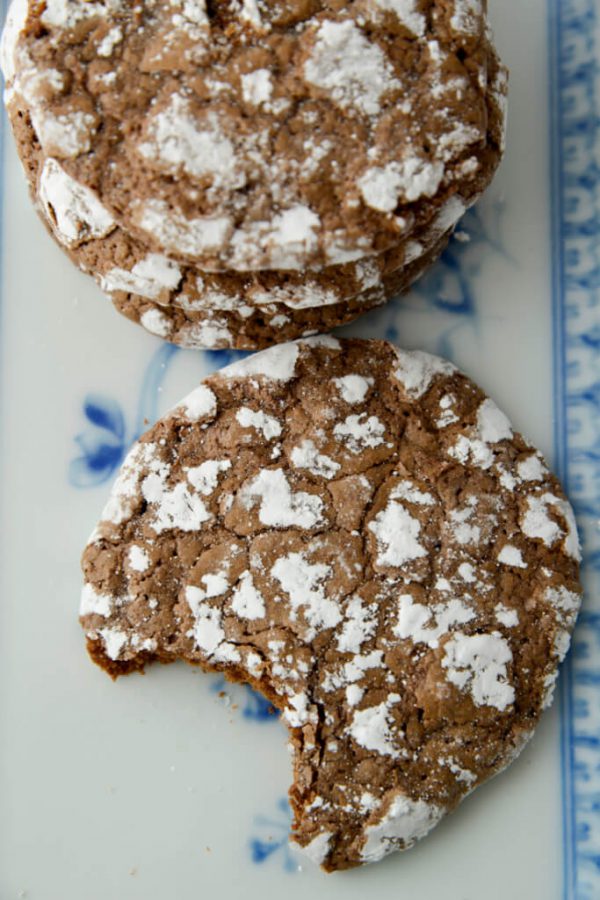 | | |
| --- | --- |
| | |
Measure out 3 cups of powdered sugar along with rest of the dry ingredients into a large bowl. Whisk until well incorporated.

Measure out wet ingredients into a separate bowl and whisk to break up eggs and combine.

Add wet ingredients to dry and stir until well combined.

Refrigerate until dough is chilled, about thirty minutes.

Measure out remaining 1 cup of powdered sugar into a large bowl. Scoop out dough into rounded tablespoons and drop into the powdered sugar filled bowl. Cover dough with powdered sugar and then roll into a ball. This step can be a little messy.

Once rolled into a ball, re-roll in powdered sugar and shake any excess powdered sugar off. Place on a parchment paper covered baking sheet. These cookies will stick to silicone baking mats, so only use parchment paper.

Bake in a 350° oven for 10-12 minutes. Slide parchment paper off of baking sheet onto a cooling rack and allow cookies to cool completely before removing from the paper.
These grain free chocolate cookies store nicely in an airtight plastic bag for 2-3 days on the countertop. If longer storage is needed, refrigerate or freeze to maintain freshness.
This grain free chocolate cookie recipe is gluten free, dairy free and vegetarian.