Sometimes it is just to hot to turn the oven on and when that happens these no bake granola bars are the perfect snack to make.
With no added sugar, these granola bars are a healthier whole food alternative for everyone and no one will ever suspect that the sweetness comes from dates. They are delicious chilled from the refrigerator or room temperature.
In my family, we are forever grabbing snacks as we are running out the door for work or after school activities.
I make these granola bars often so we always have some on hand to grab for a fast snack.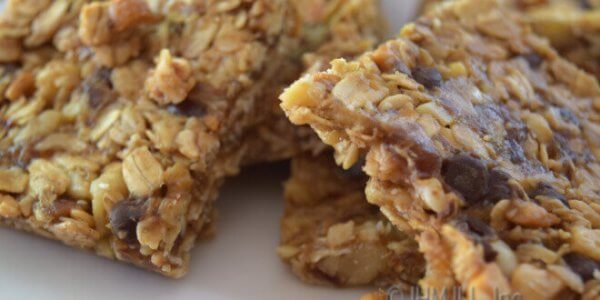 | | |
| --- | --- |
| | |
Double check dates for any remaining pits and clean as needed.

Place dates in a food processor and pulse until they turn into a thick paste.

Add maple syrup and peanut butter to food processor and pulse until well combined.

Add almonds and oatmeal and pulse until well combined.

Put mix into an 8x8 or 9x9 pan that is lined with parchment paper. Press firmly until mixture is evenly spread and well compressed.

Refrigerate until firm. Cut into 9 - 12 squares. Store in a plastic storage bag until needed.
This Granola Bars recipe is gluten free, dairy free, vegetarian and vegan.