There are still foods that I miss from before I was gluten free. Beef-A-Roni has always been one of them. I loved it as a kid. I have been working on a healthier and gluten free recipe for beef-a-roni for quite some time now, but I could never get the sauce to taste the way I remembered it. I made a pot roast the other night and the sauce from the roast reminded me of the beef-a-roni sauce. I immediately knew I had the secret sauce!
Honestly, to make this recipe right, you have to make the pot roast first. It is the combination of the tomato sauce cooking with the roast all day that creates the perfect flavor that you want for beef-a-roni. If you are trying to plan out some meals for the week, add these two recipes into your rotation for delicious, filling meals.
This ultimate comfort food is perfect for busy weeknights. With the pot roast sauce, this delicious recipe comes together quickly.
For more delicious gluten free recipes, please visit our recipe page.
Need help finding gluten free items in your grocery store? Download our free mobile app with scanner today to ease the stress of shopping for gluten free items.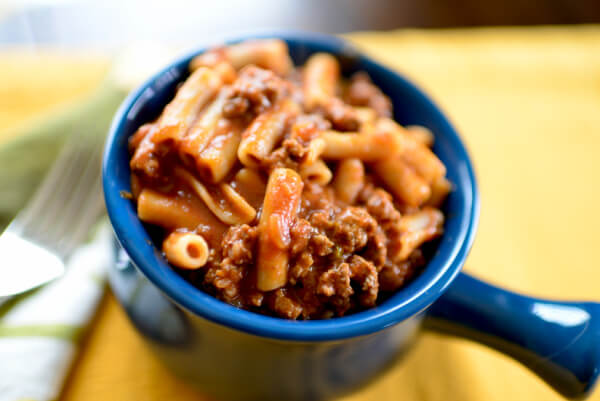 | | |
| --- | --- |
| | |
Bring a large pot of water to boil and cook noodles while browning the beef. Cook pasta according to manufacturer directions and when cooked drain and rinse well.

Brown the beef in a heavy , large skillet or dutch oven. Break up the beef into little pieces as it cooks

Drain excess fat, if necessary

Add noodles to meat and mix together

Add the sauce from the pot roast

Stir in tomato paste, beef broth and seasoning

Cook for about 5 minutes. If it is too thick add a bit more beef broth, a little at a time. It should not be watery, the sauce should stick to the noodles
This recipe only works because of the pot roast sauce.  I have tried a number of different way to make this and it doesn't quite work out the same.  The sauce from the roast gives it exactly the right flavor.  It is a quick meal and the kids loved it!  Click here for the pot roast recipe.
This Homemade Beef-A-Roni is gluten free and dairy free.