Irish soda bread is a bread of humble origins. With the introduction of baking soda in the United Kingdom in the early 1800s, people were able to make bread without yeast, which was difficult to find. Soda bread was originally made on grills or in iron pots over an open hearth. People cut crosses into the top of the breads due to the belief that it would ward off evil. Whether you bake yours in a traditional round shape with a cross or without, or in a loaf pan, soda bread is delicious and easy to make.
Using sour milk or buttermilk is very important as it interacts with the baking soda to make the bread rise. If you are dairy free, use a dairy free milk for this recipe. I have had great success with both almond and cashew milk.
This bread has just the perfect touch of sweetness and is delicious right out of the oven. We love to eat ours with butter or cream cheese, but it is perfectly wonderful all by itself. Enjoy it for breakfast and then again as a snack in the afternoon.
Ready in under an hour, this Irish soda bread is perfect for any time of the year.
To find more delicious gluten free recipes, please visit our recipe page.
Need help finding gluten free items in your grocery store? Download our free mobile app with scanner today to ease the stress of shopping for gluten free items.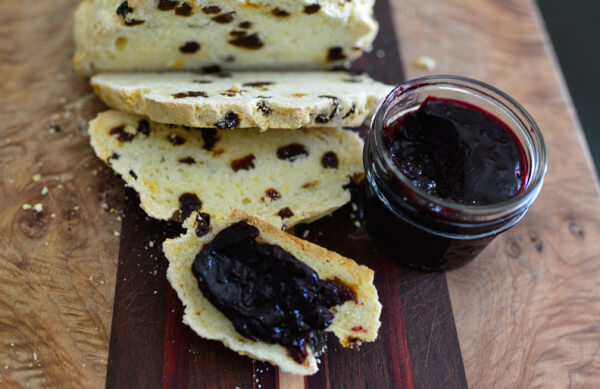 | | |
| --- | --- |
| | |
Preheat oven to 375 degrees.

Combine milk and vinegar. Whisk well and set aside for at least 5 minutes. If using buttermilk, simply measure out and set aside.

Measure out dry ingredients into a large bowl. Whisk until well blended.

Measure out raisins into a separate bowl. Remove 1-2 tablespoons of blended dry ingredients and add to raisins. Toss until raisins are well coated. Set aside.

Drop 4 tablespoons of cut up butter into dry ingredients and gently fold to coat pieces. With a pastry fork or two knives quickly cut butter into flour until reduced to very small pieces. Do not use your hands, the butter needs to stay cold. Do not use your hands, the butter needs to stay cold.

Add raisins and orange zest, if desired, to dry ingredients and whisk to combine.

Make a well in the center of the dry ingredients, add milk mixture and beaten eggs. Mix gently until ingredients are blended and the dough forms.

Divide the dough in half and pressing firmly, form into two rounds or one very large round.

Place on a baking sheet covered with a silicone baking mat or parchment paper. If desired, make shallow cross across the top.

Bake at 375 degrees for 40-45 minutes, until the internal temperature has reached 180° or until the loaf is lightly golden and sounds hollow when tapped. A single large round will take longer to bake, approximately 50-55 minutes.

If desired, brush with melted butter immediately after removing from the oven.
I have used both Almond and Cashew milk in this recipe with great success. If you would like to use buttermilk, omit the vinegar.
I find that this bread is best kept on the counter, wrapped in a towel for 2 - 3 days.
This Irish Soda Bread recipe is gluten free, dairy free and vegetarian.