There is something fun about serving small portions. I have always loved sliders and I especially love these meatball sliders. We are having a block party in a few weeks and I will be whipping up these sliders for everyone.
You can make the meatballs well in advance and refrigerate them for up to four days in advance or freeze them up to three months. Defrost them the night before you need them and pick up the directions right at the reheating part. Just make sure that the meatballs are heated all the way through before adding the cheese.
If you can't find small bread rolls in your local store, just do what my favorite barbecue place does for their gluten free sliders. Take regular size gluten free buns, and using a cup or a round cookie cutter, cut the size buns that you need. It's the perfect solution.
These meatballs are delicious, I like them better than the meatballs that I used to make before we were gluten free. When you add the water to the meat mixture, add just enough so that when you touch the meat, it is a little tacky. You do not want the meat so wet that it falls apart.
The flavor of these sliders is just amazing. I would strongly suggest making a double batch of meatballs and freezing them, so you always have them on hand.
For more delicious gluten free recipes, please visit our recipe page.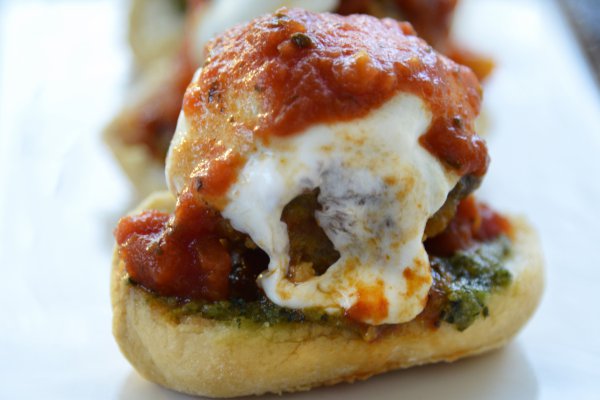 Cook Time

25

minutes, then 15 minutes
Cook Time

25

minutes, then 15 minutes
Break up matzo crackers into a food processor and process into fine crumbs. If not using a processor, place crackers in a large plastic bag and with a rolling pin, crush crackers into fine crumbs.

Place meat in a large bowl.

Add garlic, eggs, cheese, parsley, salt and pepper.

Gently mix until incorporated.

Add matzo cracker crumbs to the bowl and gently mix until incorporated.

1/4 cup at a time, add water to the meat mixture, gently mixing after each addition. Continue adding 1/4 cup of water to the meat mixture until it is moist, but still holds each shape.

Shape into 1 1/2" - 2" meatballs.

Place meatballs in a 9x13" pan that has been lightly sprayed with cooking spray. Bake at 400° for 25 minutes, turning as needed, to brown on all sides.

Remove meatballs from the oven. Reduce heat to 300°.
Pour half of the jar of marinara sauce over the meatballs. Place back in the oven until the marinara is heated through. Once marinara is heated through, place mozzarella cheese slices on each meatball and allow the cheese to melt, about 5 minutes.

While meatballs are in the oven, slice the bread rolls and spread pesto on the inside of each roll.

Place meatballs on the bottom of each roll, if desired, top with more heated marinara sauce and cover. Serve immediately.
This Meatball Slider recipe is gluten free.