Kind of fudgey, kind of cakey, brownies are the perfect dessert when you need a chocolate fix.
And just when you think brownies couldn't get any better, these brownies appear. The luscious combination of hazelnuts and chocolate makes these treats special that is so easy to make.
Surprise someone you love today with a Nutella Brownie sundae.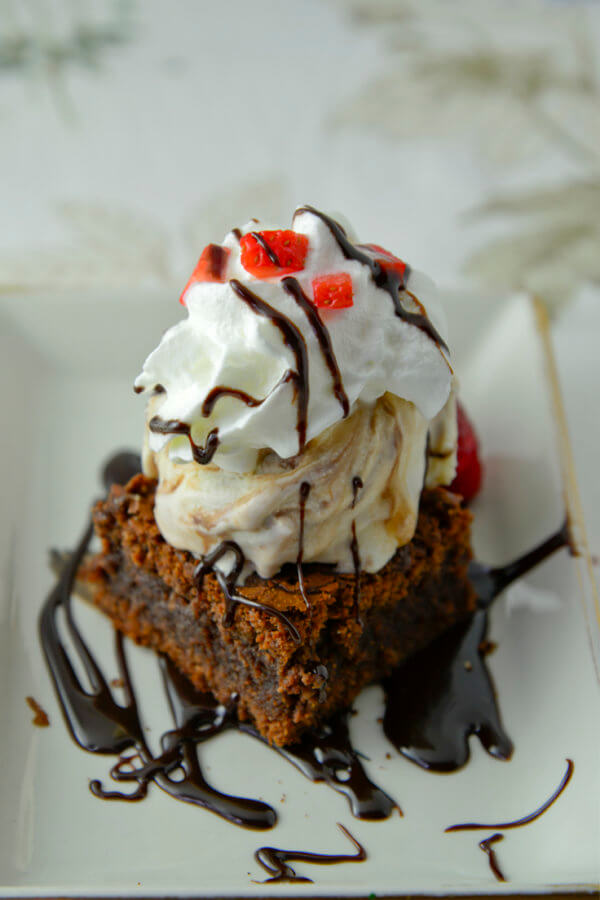 | | |
| --- | --- |
| | |
Preheat oven to 350 degrees. Spray an 8x8 or 9x11 baking pan with cooking spray. Line with parchment paper in both directions, leaving the ends of the paper long to help you remove the brownies from the pan.

Use a 9x11 pan if you prefer thinner brownies or an 8x8 pan for thicker brownies.

In a saucepan, melt butter and Nutella Spread. Stir until well combined. Remove from heat.

Add salt and granulated sugar, stirring well to combine. Allow to cool for five minutes.

Add vanilla extract and stir well to combine.

In a separate bowl, beat the eggs well. Temper eggs by adding 1 tablespoon of the Nutella mix to the beaten eggs while whisking. Once it is well incorporated, add another tablespoon of Nutella mix to the eggs and whisk well.

Add tempered eggs to the saucepan and mix until completely incorporated.

In a separate bowl, whisk together gluten free flour mix and baking powder.

1/4 cup at a time, add the flour mixture to the saucepan, stirring well in between each addition. Stir until completely incorporated. Pour into prepared pan and smooth out top.

With a spoon, drop small amounts of remaining 1/4 cup of Nutella all over the top of the brownie dough. With a knife, swirl the Nutella into a pattern across the top of the brownie dough.

If desired, sprinkle with salt.

Bake in a 350 degree oven until a tester comes out clean. 9x11 pan: 35-40 minutes 8x8 pan: 45-50 minutes

Place pan on a cooling rack and allow to cool completely before slicing brownies.
*If your gluten free flour mix does not contain xanthan gum, add 3/4 teaspoons xanthan gum to your dry ingredients.
This Nutella Brownie recipe is gluten free and vegetarian.