With a busy life and kids that are just as busy, easy desserts and snacks are lifesavers for me. These nutty bars are no exception. I can throw these bars together quickly with pantry ingredients that I always have around and it doesn't hurt that they are really tasty. They taste just like a peanut filled candy bar that I loved when I was young.
The kids love to have these around the house for after school and we all love that they are easy to grab for our countless car rides from one class or sports event to the other.
A few of my children have started to make these on their own. Since there is no baking involved, I am pretty comfortable letting them make their way through the kitchen on their own. They will grab their favorite items out of the pantry and add them to the bars. They always come up with interesting combinations and sometimes their results are really delicious. We will often make up a double batch and freeze one for later. My kids have even taken frozen pieces of these bars and broken them up on top of ice cream.
Sometimes, they have the best ideas.
For more delicious gluten free recipes, please visit our recipe page.
Need help finding gluten free items in your grocery store? Download our free mobile app with scanner today to ease the stress of shopping for gluten free items.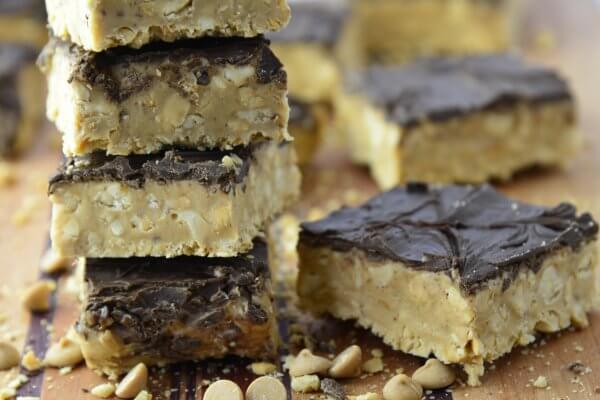 | | |
| --- | --- |
| | |
Spray 9x13 pan with cooking spray.

Chop peanuts into small pieces. I use a food processor and pulse several times.

Spread half of the chopped peanuts in an even layer on the bottom of the pan.

In a medium pot, add sweetened condensed milk, peanut butter chips and butter. Cook on medium, stirring until melted, about 5 minutes.

Slowly add marshmallows to the pot, stirring after each addition. Stir until all the marshmallows are incorporated and have melted, about 5 minutes.

Add the rest of the chopped peanuts to the pot and stir until well incorporated.

Evenly pour the mixture over the chopped peanuts in the prepared pan. Using an inverted spatula or the back of a spoon that has been sprayed with cooking spray, firmly press to smooth the layer out evenly.

Refrigerate until well chilled.

In a medium bowl, add the semi-sweet morsels and oil. Microwave for 30 seconds at a time, stirring well after each time, until the morsels are completely melted.

Pour melted chocolate evenly over the chilled peanut marshmallow layer and smooth out evenly. Refrigerate until well chilled.
To make ahead: Completed bars can be wrapped well and refrigerated for a week to 10 days in advance.
To freeze: Do not add chocolate layer. Slice nut bars and store in a freezer safe container for up to 3 months. On day of serving, remove bars from freezer and allow to defrost for 15-30 minutes. Melt chocolate and vegetable oil together. Dip bars into chocolate or drizzle chocolate over the tops of the bars. All chocolate to set before serving.