When my children were small, we lived on a cul-de-sac. Summers were spent outside in that cul-de-sac with all the other neighborhood kids. The days seemed endless and there was always an adventure to be found. Since busy kids turn into very hungry kids, the moms would take turns bringing snacks out and boxes of packaged oatmeal pies were always a huge hit.
As we discovered our family food allergies and sensitivities, those oatmeal pies had to be eliminated from our home.
It is hard when your children just want to be like the other children in the neighborhood. It broke my heart to see their sad faces when they had to have a different snack on the days when the other children were enjoying their commercially produced oatmeal pies.
I was determined to come up with a recipe that would taste even better to my children than those pre-packaged pies.
Make sure that you use certified gluten free oats for your oatmeal cookies. Regular oatmeal can be contaminated when harvested crops are transported in the same trucks as harvested wheat crops.
This recipe brought those pies right back into our house and everyone is so very happy to see them again.
For more delicious gluten free recipes, visit our recipe page.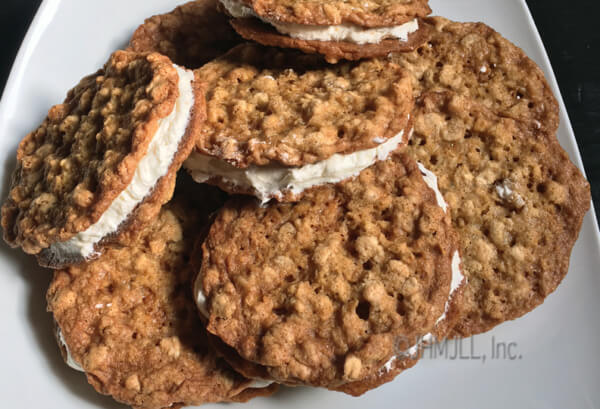 Marshmallow Frosting Filling
Marshmallow Frosting Filling
In a stand mixer or large bowl, combine room temperature butter and marshmallow creme. Mix on low until blended. Mix on medium high for one minute.

With stand mixer on low, slowly add powdered sugar and blend until well incorporated.

On medium high, blend until fluffy.
Scoop out 1-1 1/2 teaspoons of marshmallow frosting and place on the back of one cookie. Smooth until even.

Cover frosting with another cookie and lightly press together.
These will store nicely covered in plastic wrap on the counter for 2-3 days or in the refrigerator for 4-5 days.
This Oatmeal Pie recipe is gluten free and vegetarian.