I met my dear friend Lill in the middle of our daughters' cheerleading squad, many, many years ago. Even though we are in opposites in so many ways, we became fast friends and spent the next seven years working together in our community's recreational cheerleading program.
Several years ago, Lill invited my family to her beautiful Passover Seder. I loved being able to give my children the chance to experience the ceremony and symbolism. Plus, Lill makes a Charoset that is so amazing, I could eat it with a spoon. It was an amazing dinner.
When I told her that I wanted to make a gluten free Passover Orange Chiffon, she was skeptical. Passover desserts have a reputation for not being very tasty.
Challenge accepted. Happy Passover, my friend.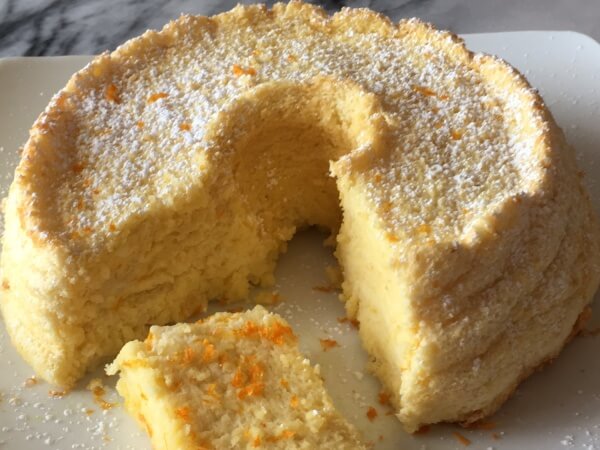 | | |
| --- | --- |
| | |
Preheat oven to 325 degrees.

Separate the egg yolks and whites. Place yolks in a stand mixer with 1 cup of the sugar. Blend on low until incorporated and then on medium high until light yellow in color.

Measure out dry ingredients into a separate bowl. Whisk until well combined.

Add orange and lemon zest to dry ingredients and whisk until well incorporated.

Measure out olive oil, orange and lemon juices and whisk to combine.

Place the 8 egg whites with the additional egg white in a bowl and whip on high. Once you reach soft peaks, slowly add 1/2 cup of sugar to the whites and whip until stiff. Set aside.

With mixer on low, alternate adding dry ingredients and oil/juice mix to yolk mixture until all is added and well incorporated. Mix on medium high for one minute.

Remove bowl from stand and add one scoop of whipped egg whites. Fold gently to incorporate.

Add remaining egg whites to bowl and gently fold to incorporate. Continue to gently fold until there are egg whites are not visible.

Gently pour into an ungreased 10" tube pan and bake for 70 minutes or until the top is golden brown and a tester inserted into the center comes out clean.

Remove from oven and invert pan onto a bottle for cake to cool. If you do not have a bottle, invert pan onto a cooling rack.

Cool for five minutes and then run a knife along the edges of the pan to loosen the cake. Allow cake to cool in pan.

Right before serving, plate cake and if desired, lightly sift powder sugar over the top and then sprinkle with fresh orange zest.
This cake has the texture of an angel food cake and is delicate. Bake it the day it is needed or the day before. If storing on the counter top, wrap the cake lightly in a towel.
This Passover Orange Chiffon Cake recipe is gluten free, dairy free and vegetarian.