Our home is a house divided. Over pumpkin, or more precisely, everyone's love or hatred of pumpkin pie. And while I love pumpkin pie, I can also appreciate my family members' point of view. I dedicate pumpkin spice cake recipe to those in my family who detest pumpkin pie.
I use pumpkin butter in this recipe. Pumpkin butter is a delicious mix of cooked pureed pumpkin and spices. It produces a lovely cake with a very mild pumpkin flavor that reminds me of a spice cake. The pumpkin butter makes this a fast and easy recipe to throw together because it already contains the spices. Great holiday recipe for Thanksgiving.
Combine this cake with our Maple Buttercream with chopped pecans between the layers.
No one in my family argues when I bring this cake to the table.
Well…at least not about pumpkin.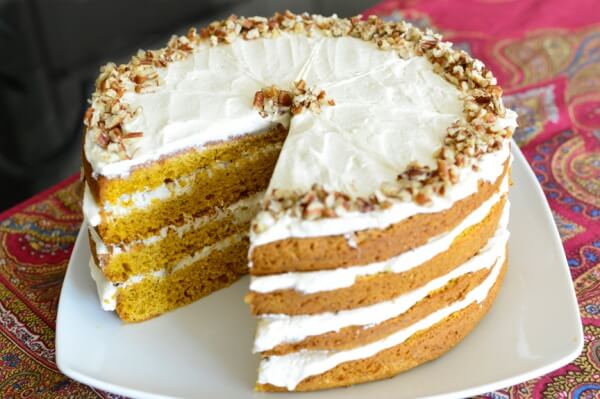 | | |
| --- | --- |
| | |
Spray 2 – 9 round cake pans or 1 – 9x13 pan with cooking spray. Line bottom with parchment paper cut to fit pan. If you are planning to leave the cake in the 9x13 pan, you can skip the parchment paper.

In a stand mixer or large bowl, cream butter and sugar together until light and fluffy.

Add pumpkin butter and blend on medium until well incorporated.

Add eggs, one at a time and blend on medium until well incorporated.

In a bowl, combine flour, baking powder and baking soda. Whisk until well blended.

Slowly add flour mix to pumpkin butter mix and blend on low until well incorporated.

Blend on medium high for one minute. The mix will be very thick.

Pour into prepared pan(s) and smooth the top of batter out. If there are ridges in your batter, they will not smooth out completely while baking. With an inverted spatula or the back of a spoon sprayed with cooking spray, smooth out batter.

Bake at 350 for 30 - 35 minutes or until a tester inserted into the center of the cake comes out clean.

Set pan on a cooling rack for ten minutes to cool and then if not serving cake out of pan, invert cake onto a cooling rack and allow to cool completely.

While cake is baking, make the Maple Buttercream and set aside.
In a stand mixer or hand mixer, beat butter until light and fluffy.

On low, slowly add powdered sugar and mix until well blended.

Once blended, turn mixer to high and blend for two minutes.

Add vanilla, maple syrup and blend on medium until well incorporated.

Add 1 tablespoon of heavy whipping cream and blend until well incorporated. If needed and second tablespoon and blend well.
Once cool, level off cake rounds for stacking and frosting, if desired. For 9" rounds, split both layers in half horizontally.

For 9x13, frost cake and sprinkle with chopped pecans.

For 9" rounds, place first layer on serving platter. Frost with a thin layer of frosting and sprinkle with chopped pecans.

Repeat with each remaining layer until cake is complete.
This cake stores well loosely covered on the counter top for 2-3 days or in the refrigerator for a week.
If making this cake for Thanksgiving, you can bake the layers 2-3 days in advance, store in the refrigerator wrapped in plastic and then frost the night before Thanksgiving.
This Pumpkin Spice Cake recipe is gluten free and vegetarian.