I was late jumping on the butternut squash bandwagon. I would walk by them in the produce department and wonder what you do with them?  One day, I picked up a couple and just decided that I would figure out what to do with them once I got home. I discovered that when roasted, this roasted butter squash and sweet potatoes recipe is delicious.
After a little research, I learned a few things about butternut squash. They are delicious, but also unbelievably nutritious. Butternut squash has no saturated fats or cholesterol, is an amazing source of fiber, phyto-nutrients, Vitamin A and B-complex vitamins.
Paired with sweet potatoes, sage and cinnamon, roasted butternut squash makes the perfect side dish.
I learned that the best way to peel a butternut squash is to not fight with it. Carefully poke a couple of holes in your squash, and then microwave for 2-3 minutes, rotating halfway through. It will be much easier to peel and slice.
This roasted butternut squash and sweet potatoes recipe makes enough for two meals. Serve the first half as a side dish one night, and use the second half to make our Roasted Butternut Squash Soup for another meal.
For more delicious gluten free recipes, please visit our recipe page.
Need help finding gluten free items in your grocery store? Download our free mobile app with scanner today to ease the stress of shopping for gluten free items.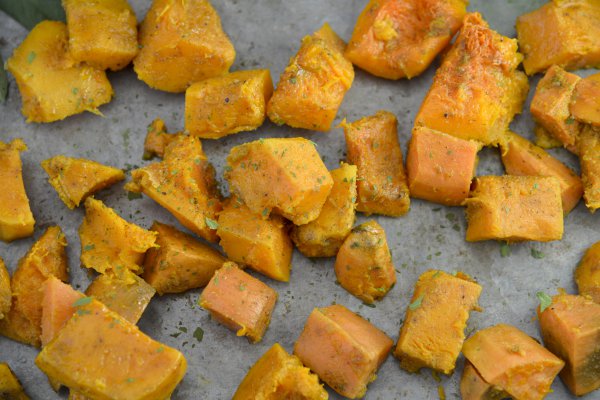 | | |
| --- | --- |
| | |
Preheat oven to 400 degrees.

Peel, seed and cube butternut squash into 1" cubes. Peel and cube sweet potatoes into 1" cubes. See note below for help peeling squash.

In a large bowl, combine squash, sweet potatoes, olive oil and spices. Mix well to combine.

Divide butternut squash and sweet potatoes mix in single layers on two parchment paper or silicone mat covered baking sheets.

Bake in a 400 degree oven for 25-30 minutes until fork tender, flipping several times.
This Roasted Butternut Squash and Sweet Potatoes recipe is gluten free, dairy free, vegetarian and vegan.