When cilantro stems start to get thick and the top of the plants start to look a little different. That means that the plants are getting ready to bolt. You want to cut them back before flowers appear. Making pesto is an easy way to preserve that "fresh from the garden taste" all year. Spicy Cilantro Pesto is versatile, easy to make, and can be used in recipes, on toast, and in sandwiches.
Even if it is store bought cilantro, I always seem to wind up with more than I need for a particular recipe. This is a great way to use all of it and not throw any away. You do not need much cilantro to make this spicy cilantro pesto. Just adjust the recipe to the amount of cilantro you have.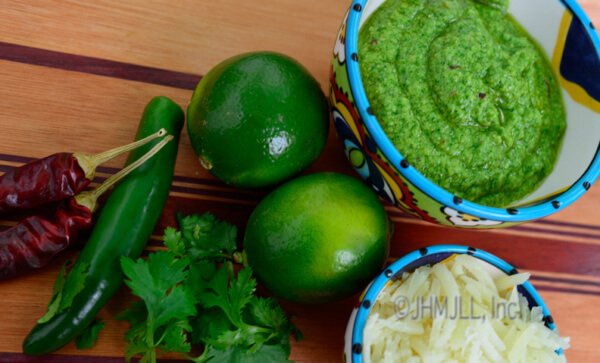 | | |
| --- | --- |
| | |
Place almonds in a food processor and pulse until the almonds look like breadcrumbs

Add the cilantro, garlic, lime juice, salt, cumin, serrano, chili pepper, and crushed red pepper. Pulse until it is well blended.

Slowly add the olive oil with the processor on low until the pesto is a creamy paste

You can store in small glass jars or fill ice cube trays with pesto and when frozen, store in a plastic bag or container. Make sure to mark and date the container for storing.
This Spicy Cilantro Pesto recipe is gluten free and vegetarian.