Cheesecake is one of my favorite kinds of dessert and the flavor combination possibilities are endless. I love any excuse to make up a new cheesecake. This Strawberry Cheesecake is one of my tried and true cheesecakes. It is the perfect dessert for entertaining because it is both beautiful and delicious.
While this cheesecake is a labor of love and patience, it is definitely worth the wait! The luscious flavors of cream cheese, graham crackers and strawberries combine to make an amazing dessert that your guests will always remember.
This recipe has a lot of steps, but is actually quite easy to make. Once baked, the cheesecake requires time to cool to room temperature and then be chilled overnight. Unless you are planning to be up all night, this is not a good recipe to start in the evening.
The plain cheesecake can be made days ahead of time and then refrigerated. On the day of your event, simply remove the cheesecake from the springform pan, top it with our Fresh Berry Glaze  and strawberries, whip cream and serve!
For more delicious gluten free recipes, please visit our recipe page.
Need help finding gluten free items in your grocery store? Download our free mobile app with scanner today to ease the stress of shopping for gluten free items.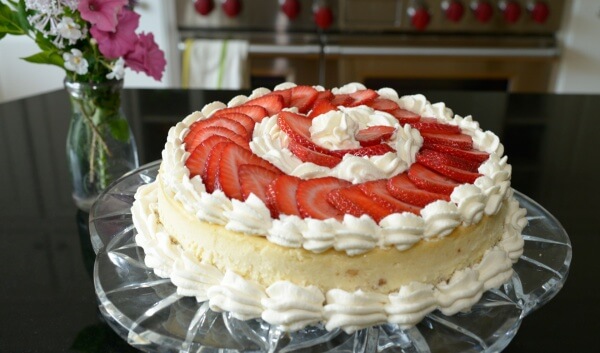 | | |
| --- | --- |
| | |
Prepare a 9" springform pan. Form an X with two pieces of aluminum foil, placing the springform pan in the center. Tightly wrap the aluminum foil up the sides of the pan. This will prevent any leakage while the cheesecake is baking in a water bath.

Cut out a 9 1/2" circle of parchment paper. Spray bottom of springform pan with cooking spray and then place parchment paper on it. This will enable you to remove the cheesecake from the pan and place on a plate. The extra 1/2" will allow you to get a finger hold on the parchment to remove the cheesecake from the bottom of the pan. If it does not matter if it sits on the bottom of your springform pan while serving, then this step is not necessary.

Prepare crust: Combine the gluten free graham cracker crumbs and cinnamon in a bowl and mix well.

Melt butter and add to crumb mixture. Mix until well incorporated.

Pour crust mixture into the 9" springform pan. Firmly pat mixture down until the bottom of the pan is evenly covered. Press the crust firmly into place. Set aside.

It is very important that your cream cheese is at room temperature, otherwise your cheesecake will not be smooth.

In a large stand mixer, combine one 8 ounce package of room temperature cream cheese, 1/3 cup of the granulated sugar, and the cornstarch. Beat on low until creamy, about 4 minutes, scraping the bowl several times.

One at a time, add the remaining three packages of cream cheese, beating on low and scraping the bowl several times after each addition, until all cream cheese is added and the mix is creamy.

On low, add the remaining sugar and vanilla. Beat on low until mixture is smooth.

Add the room temperature eggs, one at a time. Beat until blended.

Add the heavy whipping cream, mixing on low only until just incorporated. Your mix will look soft and fluffy.

Gently scoop mixture onto prepared crust in the springform pan, make sure it is spread evenly.

Place prepared springform pan into a shallow baking pan. Carefully pour hot water into the baking pan, filling it until the water comes up one inch on the side of the springform pan. Be careful not to get any water on the cheesecake batter.

Bake on the middle rack in a 350 degree oven, for approximately one hour and fifteen minutes. Check your cheesecake after one hour and then keep a close eye on it. The cheesecake is done when the sides are firm, turning golden brown and the center is soft and jiggly.

Carefully remove baking pan from oven and then remove springform pan from baking pan. Be careful when removing both pans - the water will be very hot.

Place springform pan on a cooling rack and allow to cool completely. These may take 2-3 hours.

Once cheesecake is completely cooled, while still in the springform pan, wrap in plastic wrap and refrigerate for 6-8 hours, or overnight.

After cheesecake has been thoroughly chilled, it can be removed by running a warm knife along the edges of the pan and then releasing the lock on the springform pan.

If desired, slice up strawberries and brush them with berry glaze.

Place cheesecake on a serving platter and top with prepared strawberries and fresh whip cream.
This Strawberry Cheesecake recipe is gluten free and vegetarian.