When the weather turns colder and the nights get longer, mashed potatoes reappear on our dinner table. Warm, luscious and comforting, twice baked mashed potatoes are a perfect side dish for any family dinner. They are also the perfect side dish for when you are entertaining a crowd. I love that I can make them ahead of time and just pop them in the oven to warm through and crisp up while I am preparing the rest of the meal. And with their silky texture and crispy crust, they are a sure crowd pleaser.
These potatoes are a favorite in my home. They are easy enough to throw together for a week night meal. Once the cold weather and long nights are here, it seems like my family asked for potatoes for dinner every day of the week. I will make extra potatoes for one meal, then I will make twice baked potatoes later in the week.
These potatoes are more luxurious than everyday mashed potatoes making them a beautiful addition to any week night or holiday table.
For more delicious gluten free recipes, please visit our recipe page.
Need help finding gluten free items in your grocery store? Download our free mobile app with scanner today to ease the stress of shopping for gluten free items.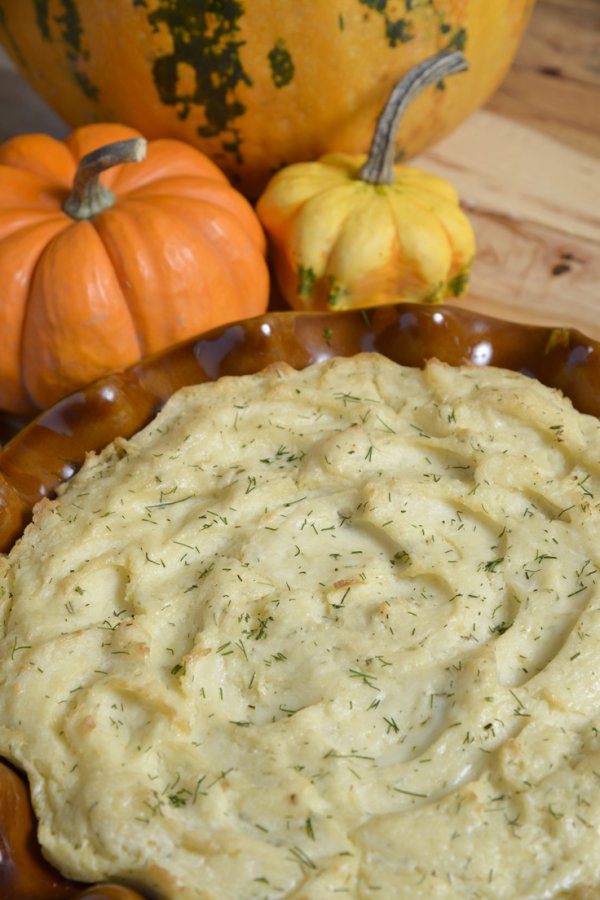 | | |
| --- | --- |
| | |
Place potatoes in a large pot and cover with enough room temperature water to cover. Add salt to water.

Bring to a boil and boil potatoes until they are fork tender.

While potatoes are boiling, place butter and leeks in a sauce pan. On low heat, melt the butter, stirring occasionally to cover the leeks with butter.

Continue heating on low until the leeks become soft. Remove leeks and reserve for another use.

Add heavy cream and cream cheese to the butter, stirring until the cream is heated through and the cream cheese has melted.

When potatoes are fork tender, drain potatoes in a colander and then return to the hot pot to dry any remaining moisture off the potatoes.

Transfer potatoes to a very large bowl and gently mash using a potato ricer or masher.

Add butter mixture and dill to potatoes and gently combine.

Spray a 9" ceramic pie plate or casserole with cooking spray then spoon potatoes into dish.

Gently press the back of a spoon into the potatoes and pull up to create peaks across the top.

If making in advance, allow potatoes to cool completely. Wrap securely with plastic wrap and refrigerate until needed.

To twice bake: remove dish from refrigerator, remove plastic wrap and allow dish to come to room temperature - approximately one hour.

Bake in a 350 degree oven for approximately 40-45 minutes or until the potatoes rise and the edges and peaks turn golden brown.
This Twice Baked Mashed Potatoes recipe is gluten free and vegetarian.