When I start thinking about decorating cookies, I know the holidays are right around the corner. The festive decorations, the smell and taste of these cookies, all bring back memories of past family holiday seasons. These Vanilla Bean Butter cookies can be made ahead of time in a couple of different ways. The dough can be made 2-3 days in advance and kept in the refrigerator or you can make the dough, cut out the cookie shapes and then freeze until needed.
During this busy holiday season with a little preparation, you can have these pretty little cookies baked in a flash.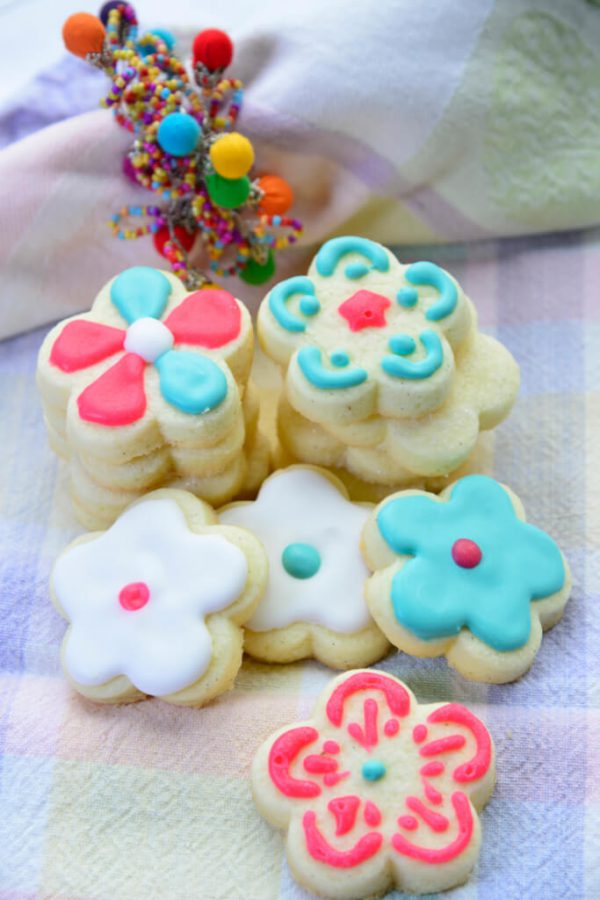 Passive Time

2 hours

plus 15 minutes
Passive Time

2 hours

plus 15 minutes
Cut butter into small pieces and then chill until cold.

In stand mixer or large bowl, beat butter and granulated sugar until light and fluffy.

Split vanilla bean and scrape out seeds. Add seeds to bowl and blend until incorporated.

Add egg to bowl and blend until incorporated.

Measure out flour by using a spoon to scoop out flour into the measuring cup and then leveling the flour in the measuring cup with a knife.

Add flour, 1/4 cup at a time to mixing bowl and blend on low until incorporated. Continue adding 1/4 cup of the gluten free flour mix until all flour is incorporated.

Beat the cookie dough to make certain until all the ingredients are completely incorporated. The dough will be smooth and sticky.

Wrap the dough in plastic wrap and refrigerate until chilled, about 2 hours. If you are making the dough a couple of days in advance, double wrap your dough tightly before refrigerating.

When you are ready to make your cookies, remove dough from refrigerator and let it to warm up for 5 minutes. While dough is warming up, cover your working area with plastic wrap or parchment paper and lightly flour it with your gluten free all-purpose flour mix.

Set dough on your working surface and lightly flour. Cover dough with plastic wrap or parchment paper and roll to an even 1/4" thickness, sprinkling lightly with flour as needed.

Cut shapes out of dough with desired cookie cutters and place shapes on a parchment paper covered baking sheet. Take dough scraps, form into a ball and re-roll to 1/4" thickness. Repeat until all dough is used. If dough becomes warm, wrap and refrigerate until chilled.

If desired, lightly brush cookies with water and generously sprinkle with sanding sugar. If you are decorating your cookies with icing, do not use sanding sugar on them. *Note: if you are making cookies ahead of time, do not sprinkle with sugar until the day of baking.

Place baking sheet into freezer for 15 minutes. This step is necessary for the cookies to hold their shape while baking.

If you are making these ahead of time, freeze cut out cookie shapes until completely frozen, then remove from baking sheet and place in a freezer plastic storage bag until needed. When baking off cookies, remove from freezer bag and place on parchment paper covered baking sheets. Allow to defrost for 5 minutes and then if desired, brush with water and cover with sanding sugar.

Preheat oven to 350 degrees.

Bake cookies for 9-11 minutes, until the edges are dry and barely turning light golden brown. Place on a rack until completely cooled.

Store in an airtight container for 4-5 days.
*If your gluten free flour mix does not contain xanthan gum, add 2 teaspoons xanthan gum to your gluten free flour mix.
I used Cake Mate icing, purchased from my local grocery store to decorate some of my cookies. It is gluten free and comes in a variety of colors. Once it dries, you can stack and store the decorated cookies in an airtight storage container. If using multiple colors on one cookie, complete one color at a time, allow to dry, then apply the next color until the cookie is complete.
This Vanilla Bean Butter Cookie recipe is gluten free and vegetarian.