I was surprised to discover early on in my gluten free journey that not all store bought pasta sauces are gluten free. Scanning the shelves for a delicious, gluten free pasta sauce can be slightly overwhelming. Fortunately, it is not difficult to make your own pasta sauce. I prefer this vegetable marinara sauce over any that I have found in the store.
This recipe is also great for those left over veggies that you just do not know what to do with. I often find my veggie drawer filled with half of a red pepper, partial packages of portabello mushrooms and an errant hot pepper or two. You can be creative with sauces and add those pesky leftovers to the sauce.  As many of you know, I hate throwing away food so I hide many vegetables in my sauces and soups.
This is a really versatile sauce, so let your imagination run wild. Here are some ideas: use as a sauce for pasta, vegetarian lasagna, create sub sandwiches, marinade for roasts and chicken, and even over roasted vegetables.
For more delicious gluten free recipes, please visit our recipe page.
Need help finding gluten free items in your grocery store? Download our free mobile app with scanner today to ease the stress of shopping for gluten free items.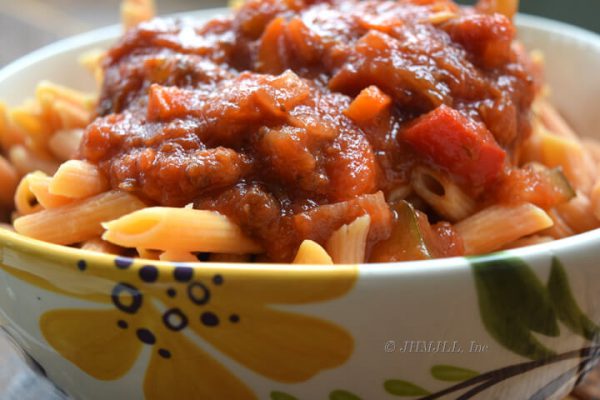 | | |
| --- | --- |
| | |
In a a large dutch oven, heat the olive oil

Add onion, leeks, carrots and celery. Cook for 10 minutes

Add the zucchini, red pepper, mushroom, hot peppers, and any other vegetables you want to toss in.

Cook the vegetables on medium to low heat until they reduce in size by about half. Usually about 20 minutes. Stir occasionally

Add the tomato sauce and diced tomatoes. Stir well

Add the spices, stir well and lower the heat to a simmer.

Cook covered for at least one hour, stir occasionally

Serve over cooked pasta with freshly grated parmesan cheese.
Refrigerate for up to one week, or store in airtight containers and freeze.
This Vegetable Marinara Sauce recipe is gluten free, dairy free, vegetarian and vegan.