We are always looking for fun ways to celebrate holidays as a family. On St. Patrick's Day, we love to celebrate being Irish with the rest of the world. We start our day with Irish Soda bread and parades and finish it with a dinner of corn beef and cabbage. For dessert, no one ever argues about a yummy, mint filled, chocolate treat and these whoopie pies fit that bill perfectly.
While the cakes are baking and cooling, have everyone help make the filling. If you don't like mint, you can always swap out the mint extract for vanilla.
As a matter of fact, this recipe is a great way to have even the little ones help out in the kitchen. Have your children roll the filled pies in sprinkles for a little extra decoration.
The pies can be made up ahead of time also. After you have filled and rolled your pies in sprinkles, and then place them in a plastic storage bag or an airtight container in the refrigerator. When you are ready to serve them, dust the tops with powdered sugar for a finishing touch.
Whoopie Pies are the perfect dessert to end a day full of fun.
For more delicious gluten free recipes, please visit our recipe page.
Need help finding gluten free items in your grocery store? Download our free mobile app with scanner today to ease the stress of shopping for gluten free items.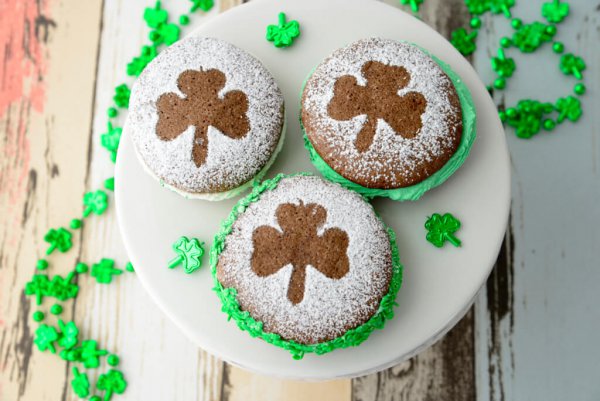 | | |
| --- | --- |
| | |
In a large bowl, measure out the gluten free all purpose flour mix, sugar, cocoa powder, baking powder, baking soda and salt. Whisk well until well incorporated.

In a separate bowl, combine the eggs and vegetable oil. Whisk well.

Combine egg mixture to the dry and mix well. Batter will be stiff.

Slowly add the hot coffee to the batter. Stir until completely incorporated.

Add vanilla extract to the batter and stir until well blended.

Drop evenly spaced rounded tablespoons of batter on parchment paper or silpat covered baking sheet. Gently form into a circle. The batter will spread. I only bake 6 on each baking sheet.

Bake for 10-12 minutes. Transfer to a cooling rack and allow to cool completely.
While cakes are cooling, prepare the filling. In a bowl, combine butter and vegetable shortening. Whip together until light and fluffy.

With mixer on low, slowly add powdered sugar to the bowl. Once all the powdered sugar is incorporated, add mint extract then blend on medium low until smooth and creamy.

If desired, add food coloring, 1-2 drops at a time until frosting reaches desired color.

If filling is too thick, add milk 1 tablespoon at a time, blending well after each addition until frosting reaches the desired consistency.
Pipe or spoon a generous amount of filling on the bottom of a circle. Top with another circle, gently pressing down into the filling. Repeat with remaining circles and frosting.

If desired, roll pies sides in sprinkles.

To achieve, the shamrock shape on top of the whoopie pie, lay a large shamrock shaped sticker in the center of the pie. Sprinkle with powdered sugar. Carefully remove sticker.
Store any leftover whoopie pies in an plastic storage bag in the refrigerator.
This Whoopie Pie recipe is gluten free and vegetarian.