Nachos are always popular, but these Nachos Supreme are a huge hit every single time. They disappear in minutes. The trick to amazing nachos is to have fully loaded flavor in every single bite. First, I start by tweaking the refried beans. I then continue to add flavor all the way through to the fresh Pico de Gallo and the olives sprinkled on top. Perfect for hungry kids as well as adults, these nachos supreme are a sure winner for any occasion.
Using fresh ingredients as well as taking the time to add those extra little touches, make these loaded nachos burst with flavor. I have included all the recipes you need to complete these nachos.
Click here for detailed instructions on taco seasonings and how to prepare the taco meat.
For more delicious gluten free recipes, please visit our recipe page.
Need help finding gluten free items in your grocery store? Download our free mobile app with scanner today to ease the stress of shopping for gluten free items.

Adding the cream cheese blend, chilies and spices to the refried beans adds so much extra flavor to your nachos. Topping the nachos with fresh, homemade Pico de Gallo pulls that fresh flavor all the way through. The very different, distinct flavors in this recipe give you a burst of flavor with every single bite.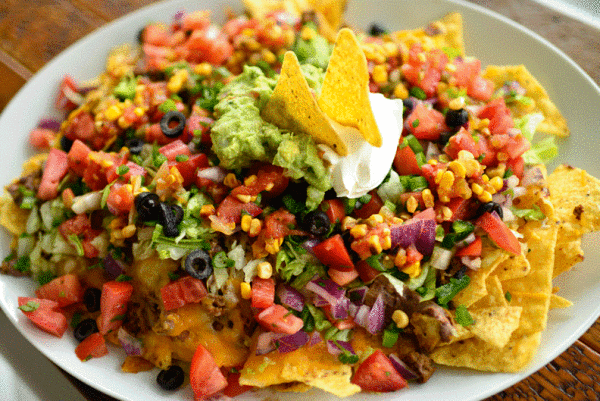 Cream Cheese Blend Recipe
| | |
| --- | --- |
| Cream Cheese Blend Recipe | |
In a saucepan over medium heat mix together all ingredients and cook for 5 minutes.
Cream Cheese Blend Recipe
Put all ingredients in a bowl and blend well. You want the cream cheese to be spreadable, so using room temperature is key to being able to mix all ingredients together easily.
Line baking sheet with aluminum foil and spray foil with non-stick cooking spray.

Arrange tortilla chips on the foil in the same shape and size of your serving platter.

Place the refried bean mix on chips, using a rubber spatula spread evenly over the tortilla chips.

Add the cooked taco meat on top of the refried beans.

Sprinkle the cheese over the chips, meat and beans.

Bake for 10 minutes at 350º.

Remove from oven and carefully slide a spatula under the tortillas to loosen them from the aluminum foil, slide the chips onto your serving platter.

Add the shredded lettuce, spreading evenly.

Then add the fresh Pico de Gallo the same way.

If you want extra flavor you can add sour cream, salsa and guacamole for more flavor.

Top with diced black olives.