Summer is just around the corner.  Our summers are always filled with lots of barbecues. When the beautiful weather finally gets here, I don't want to be stuck in the kitchen. And that's where this Red, White and Blue Trifle comes in. Pair it with our bacon and blue cheese burger, potato salad and broccoli slaw for an amazing gluten free menu.
Not only is this trifle delicious, but it can be made quickly. Put your trifle together right in just minutes with store bought ingredients.
In honor of Memorial Day and Independence Day, I have filled our trifle with strawberries and blueberries. Of course, you can fill yours with your favorite fruit combinations. Create a trifle that is uniquely yours. Not only are strawberries and blueberries delicious, but try raspberry and peaches, mango and papaya, or blackberry and apricots.
For more delicious gluten frees recipes, please visit our recipe page.
Need help finding gluten free items in your grocery store? Download our free mobile app with scanner today to ease the stress of shopping for gluten free items.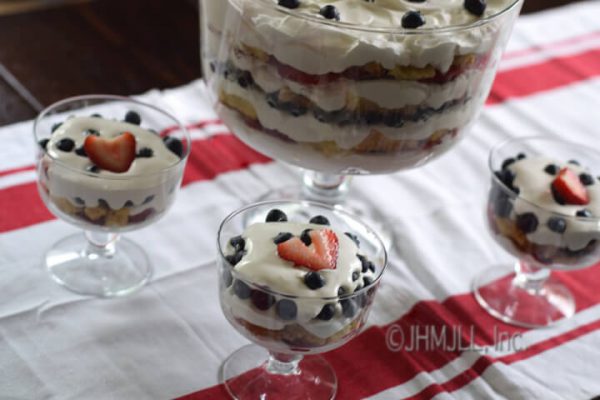 | | |
| --- | --- |
| | |
Cut cake into small bite pieces.

In the bottom of your bowl, put a thin layer of whip cream.

On top of whip cream, layer strawberries, then cake pieces, a layer of whip cream and then blueberries.

Repeat until bowl is full.

Refrigerate until needed.
*In our home, we have lactose issues, so I always use a non dairy whip cream substitute. While preparing the individual trifles, I ran out of whip cream substitute and the only thing I had was lactose free ice cream. It was a delicious accident. I would not use ice cream for the large trifle, but If you are making individual trifles with ice cream, you will need to assemble them right before serving.
This Red, White and Blue Trifle recipe is gluten free, dairy free (with substitutions).