I am forever chasing my family around the house asking them to taste this or that new recipe. They are not only willing to try new dishes, but are unfailingly honest. Their feedback makes me better at what I do.
It is not unusual for me to make the same recipe over and over again, tweaking it each time until it is perfect. While always willing, they are not always excited to eat the same dish three days in a row.
This chicken is always greeted with enthusiasm.
Perfect for a special occasion or celebration but easy enough to prepare for a weeknight dinner. For a romantic dinner for two, simply cut this dish in half. This Stuffed Chicken with Goat Cheese and Spinach can be prepped the night before.
Try it with steamed vegetables and our twice baked potatoes.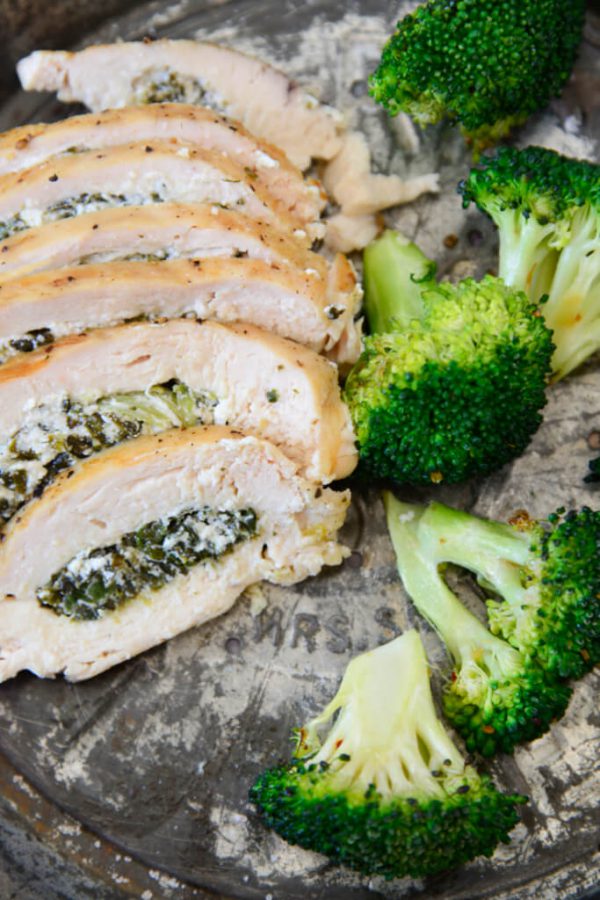 | | |
| --- | --- |
| | |
Cook frozen spinach according to the package directions. Drain cooked spinach, then dry spinach completely by twisting in a towel to remove moisture or pressing between layers of paper towels until dry.

In a bowl, mix goat cheese and dried spinach until spinach is incorporated throughout the cheese. Set aside.

Place chicken breasts between two layer of plastic wrap. Gently pound out chicken breasts just until they are an even thickness.

With a sharp knife, as evenly as possible, create a pocket in the center of each chicken breast. Take care not to cut through the ends or bottom of each piece.

Salt and pepper the inside of each pocket. Evenly distribute the goat cheese and spinach mixture into each pocket - 2-3 tablespoons in each breast. Gently press down on top of chicken breast to spread cheese mixture evenly in each pocket.

Insert a wooden toothpick to hold each pocket closed. Salt and pepper the outside of each chicken breast.

In a hot skillet, measure out 1 tablespoon of oil. With heat on medium high, place 2-3 stuffed chicken breasts at a time to brown, 3-5 minutes each side.

Place browned chicken breasts in an oven safe baking dish and place in a 400 degree oven for approximately 20 minutes or until the internal temperature reaches 165°.

Remove chicken from oven and allow to rest for 5 minutes. Before serving remove the toothpick.
To prep the chicken in advance: Create pocket and stuff chicken breasts, securing well with a wooden toothpick. Wrap chicken well with plastic wrap, place flat in a plastic storage container and refrigerate overnight.
This Stuffed Chicken with Goat Cheese and Spinach recipe is gluten free.