I love that Christmas is the only time of year that you can decorate a cake to look like a piece of wood and call it festive. Commonly seen during the Christmas season, but Yule logs were not always the sweet treat that they are today.
People celebrated the winter solstice by burning bonfires. Those fires reminded people that even during the darkest hours of winter, the sun and warmth would return again. The Yule log would burn all night from December 24th into the 25th. As time went on, fewer people kept a fire burning all night and cake came to represent the Yule log.
In honor of the holiday season, we present to you our Yule Log. Lightly spiced, this cake is a delicious and beautiful addition to your holiday table.
The secret to a beautifully rolled cake is while the cake is still warm, to roll the cake in a powdered sugar covered towel and then leave it to cool completely while rolled. Once cooled, the cake can be gently unrolled, filled and rolled back up again without any problems. You can make the cake ahead of time and refrigerate, still in the towel for a day or two, until needed.
Filling and frosting is quick and easy, using a double batch of our chocolate buttercream recipe. Frost the cake and then use an inverted spatula or fork to create the wood texture.
Embrace the season by decorating your cake with small plastic holiday decorations, cranberries or berries. Sprinkle with powdered sugar to finish off your beautiful Yule Log.
For more delicious gluten recipes for all your holiday needs, please visit our recipe page.
Need help finding gluten free items in your grocery store? Download our free mobile app with scanner today to ease the stress of shopping for gluten free items.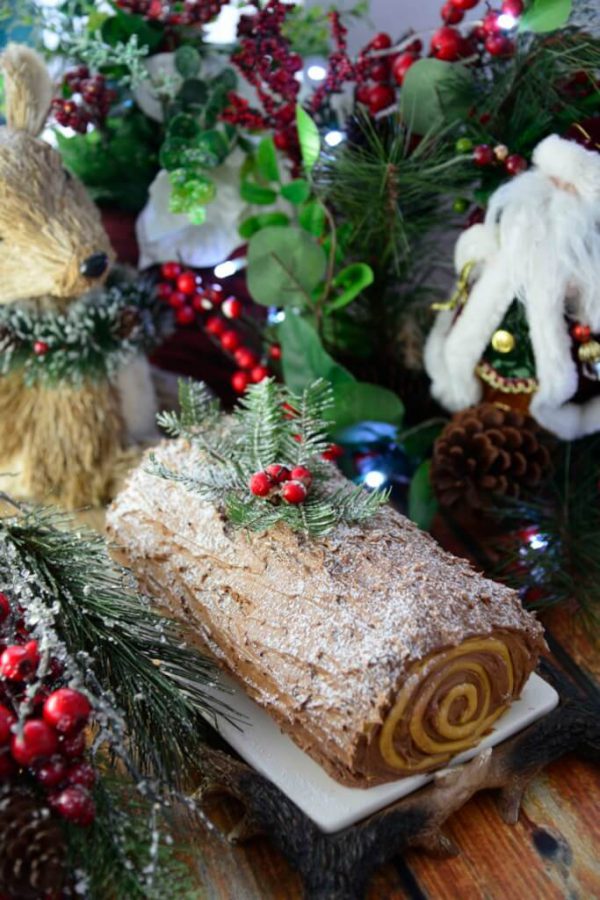 Passive Time

30

minutes to 1 hour
Passive Time

30

minutes to 1 hour
Preheat oven to 400 degrees. Prepare a 15 x 10 baking sheet: spray with cooking spray, cover with parchment paper and then spray again. Sprinkle with gluten free all purpose flour mix.

Beat egg whites and cream of tartar on high until foamy.

With stand mixer on medium constantly, add 1/3 cup of granulated sugar, 2 tablespoons at a time, mixing until each addition is incorporated. Do not stop mixer while adding sugar.

Beat on high until whites are glossy and form soft peaks.

In another bowl, beat yolks until thick. Add vanilla and salt and beat until incorporated.

Gradually beat in remaining 1/3 cup granulated sugar into the egg yolk mixture until sugar is incorporated and mixture is pale in color.

Combine the gluten free flour, baking soda, baking powder, salt and spices. Whisk to combine well.

Sift flour mixture over egg whites in stand mixer bowl. Gently add egg yolk mixture to bowl.

Fold gently until color is uniform and there are no streaks of the flour mixture remaining. Do not stir!

Spread mix onto prepared baking sheet.

Bake at 400 degrees on oven center rack until center springs back when lightly tapped, 10-12 minutes.

While cake is baking, lay out a clean kitchen towel and sprinkle with powdered sugar. When cake is done, remove from oven and immediately invert cake onto the towel. Remove paper. Trim edges of cake all the way around.

Fold short end of towel over the short end of the cake and roll towel and cake together tightly. Place on cooling rack and allow to cool completely.

If making ahead, refrigerate the completely cooled cake, still wrapped in the towel and wrapped in plastic wrap.

Once cooled, gently unroll cake, and fill with prepared frosting, leaving a half inch border all the way around. Tightly roll cake back up, seam side down, wrap in plastic wrap and refrigerate until chilled. If serving the same day, freeze cake for thirty minutes and then frost.

When cake is firm, remove from refrigerator or freezer, unwrap plastic wrap and cut ends to form clean edges.

Smear 1 tablespoon of chocolate butter cream on serving platter to hold cake in place, then place cake seam side down. Frost all sides with chocolate buttercream, creating texture to resemble a log.

Decorate as desired. Refrigerate, lightly covered with plastic wrap, until needed. To serve, sprinkle entire cake with powdered sugar.
*If your gluten free flour mix does not contain xanthan gum, add 3/4 teaspoon xanthan gum to your gluten free flour mix.
This Yule log recipe is gluten free, dairy free and vegetarian.