Cake isn't really cake without frosting. I like this chocolate buttercream recipe because it is so simple and straight forward that it is impossible to mess up. Ready in under fifteen minutes, it is the perfect frosting for when I am in a time crunch. It doesn't hurt at all, that on top of being easy to make, it is really delicious.
Besides being delicious, this frosting does double duty as a frosting and filling. I always use this chocolate buttercream with our chocolate layer cake, but for another double chocolate cake, pair it with our devil's food cake. If you love the combination of banana and chocolate, try it with our banana layer cake. For the Christmas season, I fill our beautiful Yule Log with this chocolate buttercream.
You can make this frosting ahead of time. Store it in an airtight container in the refrigerator for up to five days. On the day that it is needed, remove it from the refrigerator and allow it fifteen minutes to come to room temperature. Beat the frosting on high for three to five minutes or until the frosting is creamy. Fill or frost your cake as needed.
For more delicious gluten free recipes, please visit our recipe page.
Need help finding gluten free items in your grocery store? Download our free mobile app with scanner today to ease the stress of shopping for gluten free items.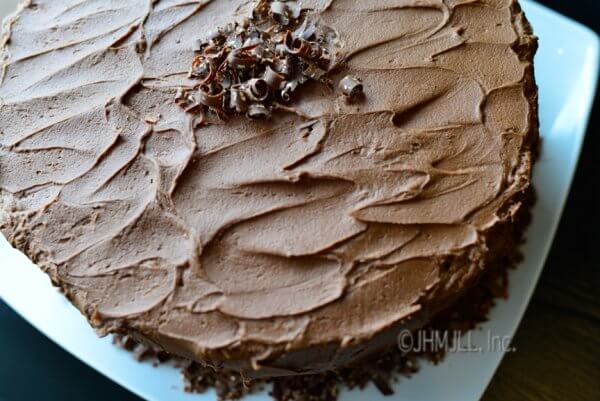 | | |
| --- | --- |
| | |
In a stand mixer, cream butter until light and fluffy.

Slowly sift cocoa powder into the butter mixing on low until incorporated.

Add vanilla extract to the mixer bowl, mixing until incorporated.

Slowly add one cup of sifted powdered sugar at a time, mixing on low until incorporated and then on medium-high for one minute.

Continue to add cups of sifted powdered sugar until the frosting is the desired consistency. If the frosting becomes too thick, add 1 tablespoon of hot coffee at a time, to thin it out.

When powdered sugar is completely added, whip frosting on high until fluffy.
This Simple Chocolate Buttercream recipe is gluten free and vegetarian.