We have a favorite chocolate shop that we discovered on our drive to and from my daughter's university. It is a charming storefront with a cozy fireplace, comfortable chairs and couches where you can sit and enjoy their delicious chocolates and truffles along with coffee or wine. We fell in love with their pecan truffles.
A genius business plan, don't you think? It was just the right break my heavy heart needed before the drive home without her. I can not tell you how many times we stopped in to visit that shop in our travels back and forth, but now that my daughter has graduated it seems just a bit out of the way for chocolate.
Not that we haven't done it once or twice, but it is a far drive for a couple of truffles.
It was time to figure out how to make truffles. And much to my delight, after only a few stumbles, I made these. I apologize to everyone that I sent a picture of that first truffle, but I was super excited.
My family is so understanding.
Creamy, salty and delicious. They are also ridiculously easy to make. Going somewhere this weekend? Surprise them with a plate of beautiful truffles.
Serve these truffles for dessert following our Stuffed Chicken with Goat Cheese and Spinach for a memorable meal.
Welcome to my first truffle recipe, it won't be my last.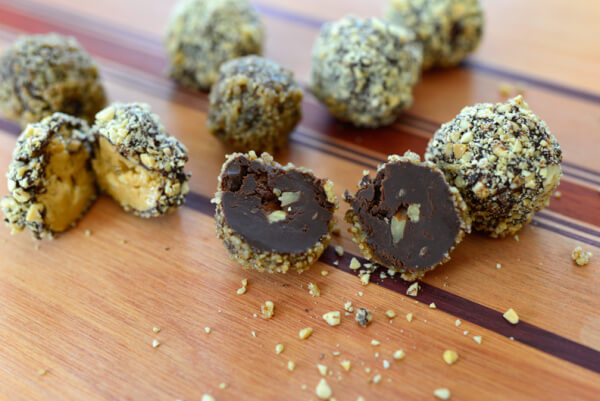 Passive Time

2

hours approx
Passive Time

2

hours approx
Chop chocolate bar and place in a bowl.

Add sea salt to chocolate.

In a small saucepan, bring heavy cream to a boil. Once boiling, remove it from heat immediately. Add maple syrup and stir to combine.

Pour cream mixture over chocolate and salt. Do not stir! Leave the hot cream sit for ten minutes to gently melt the chocolate without stirring. If you stir the mixture to quickly, the chocolate will be grainy.

Stir the mixture until well incorporated, smooth and shiny.

Refrigerate the bowl until the mixture is hardened, about two hours.

Once the chocolate mixture is hardened, remove from the refrigerator. Scrape the chocolate, one tablespoon at a time.

Place pecan half in the middle of each tablespoon and roll into a ball.

Roll in chopped pecans to coat.

Refrigerate completed truffles until firm.

Store truffles in a refrigerated airtight container until needed.
Do not make the mistake that I initially made by measuring out 8 ounces of chopped chocolate. Your chocolate mixture will never set up. You need to start with 8 ounces of chocolate bar.
My first truffle, I finished completely. After having to wash my hands too many times in between steps to make that first one, I rolled out all of my truffles and then rolled them in the chopped pecans. It was much easier.
I bought my pecans already roasted and salted. If you have raw pecans, toss them in a couple of tablespoons of melted butter and salt, then roast in a 300 degree oven for 20 minutes, flipping after ten minutes. Let cool.
This Chocolate Pecan Truffles recipe is gluten free and vegetarian.